By Kirsten Mickelwait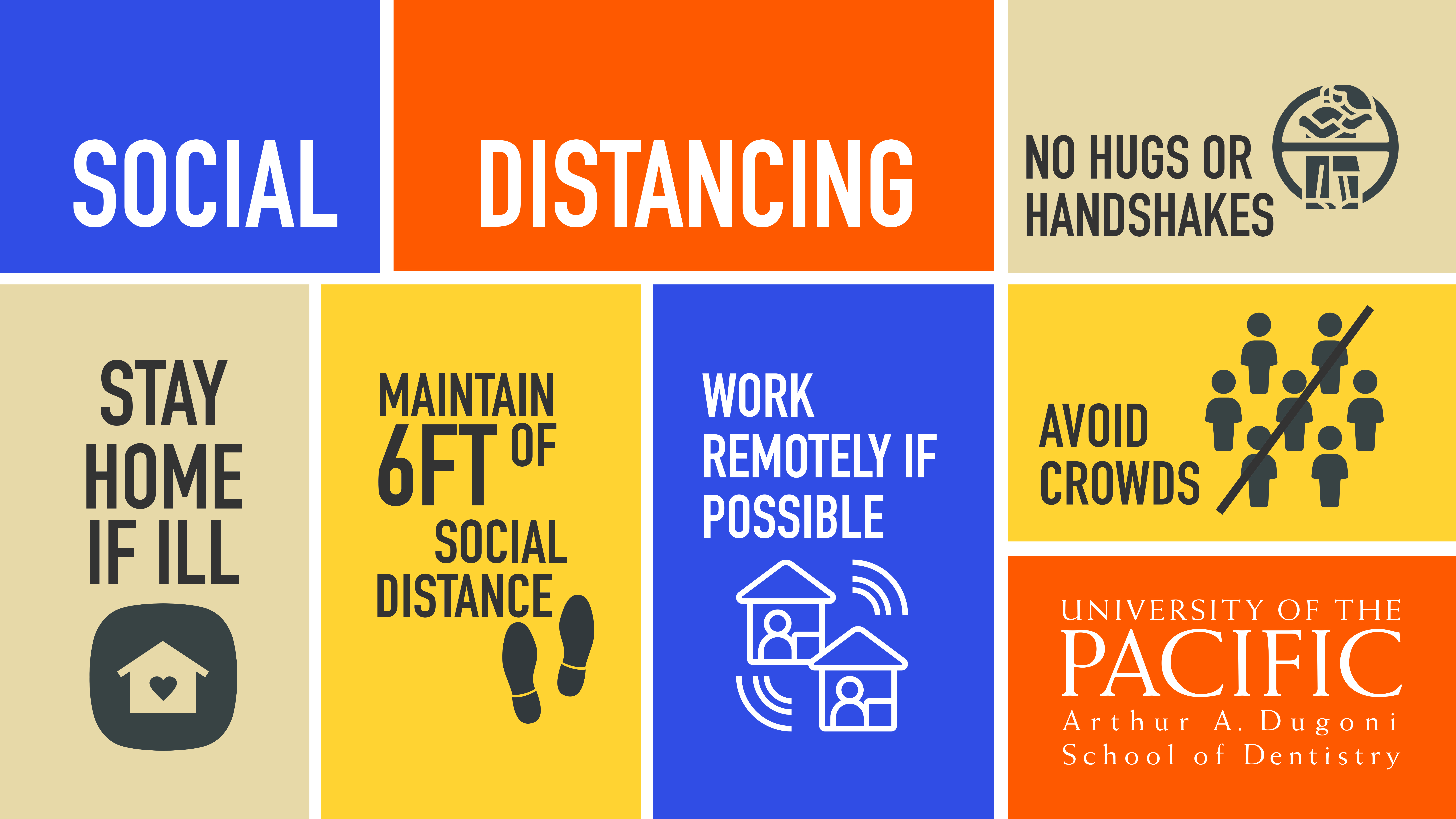 In mid-March 2020, when the country began responding to the COVID-19 pandemic with shelter-in-place directives, dental facilities were among those most seriously hit. The Centers for Disease Control (CDC) warned that "dental settings have unique characteristics that warrant specific infection control considerations." The American Dental Association (ADA) advised dental practices to close their offices to all but emergency care, and many closed entirely. For an institution like the Arthur A. Dugoni School of Dentistry, with nearly 550 students and residents, hundreds of faculty and staff members and thousands of patients, the implications were clearly deep and far-reaching. How could dentistry be taught effectively in the time of COVID-19? And how could the Dugoni School of Dentistry approach this crisis in alignment with its defining characteristic of humanism?
Compassionate Leadership
"This challenging time has sharpened our focus on the needs of our students and residents, and our sensitivity to the challenges many families have been facing during the pandemic," says Dean Nader A. Nadershahi '94. "We've deepened our respect for each other and our unique needs as students, faculty, staff, patients, alumni and friends. Flexibility, open communication and transparency have been more important than ever."
Nadershahi has also led the school to become an invaluable resource during the nationwide quarantine, demonstrating best practices in policies and procedures on how to reopen that other schools have followed. He currently chairs the Council of Deans for the American Dental Education Association and meets bi-weekly via video conference with all dental school and military deans throughout North America. He is part of the COVID-19 Public-Private Partner Dental Coordinate Group, organized by the assistant surgeon general and chief dental officer of the U.S. Public Health Service, and has worked closely with the task force on accreditation that was formed to address the needs of students and dental education programs related to COVID-19 as well as with the California Dental Association, Dental Board of California and other testing agencies. Because of the Dugoni School of Dentistry's accelerated academic calendar, it was among the very first dental schools to resume clinical operations after sheltering in place.
"Our focus has been to maintain our culture and sense of family even during times of physical distancing, remote work and virtual teaching," Nadershahi says. "We've tried to provide a sense of stability and hope, and reminders about the importance of wellness."
Within the school, Nadershahi has "walked the walk" of open communication. He has sent daily email messages to the entire dental school community with campus resumption plans, clinical and academic updates and words of encouragement and inspiration. He's made calls to check in with stakeholders from managers to future students, connected with alumni through the Alumni Association's Newsflash e-newsletter and has held regular Zoom meetings with student leaders, faculty, staff, alumni and other groups.
"Our focus has been to maintain our culture and sense of family even during times of physical distancing, remote work and virtual teaching," Nadershahi says. "We've tried to provide a sense of stability and hope, and reminders about the importance of wellness."
The success of Nadershahi's efforts was reflected in a recent email from Dr. Mia Tittle '18, an alumna who is currently in the Endodontic Residency program. "I've been amazed by the innovation, collaboration and devotion to clinical excellence shown by faculty and staff during these unprecedented times," she writes. "Thanks to your incessant hard work, the Dugoni School has once again led the way for other institutions and dental schools across the nation. I want to thank you for continuing the legacy of humanism and integrating the importance of mental health awareness into the core of our culture at Pacific with the Peer Support program."
A faculty member recognized Dean Nadershahi's actions by simply stating, "That is what leadership looks like."
From Didactic to Remote Learning Overnight
Suddenly, schools around the world, from elementary through graduate level, discovered the term "distance learning." "When the city's first shelter-in-place directives were issued, we marshalled forces to transition our didactic courses to remote formats," says Dr. Cindy Lyon '86, associate dean for oral health education. "We had just enough time before the building closure for our instructional designer, Dr. Sinky Zheng, to orient our students and course directors to learning platforms and technology that could be used in the face of a quarantine."
San Francisco's stay-at-home orders were issued during finals week, requiring the postponement of exams to the following week. The dental school's administrative and information technology teams reviewed, selected, purchased and installed software to expand the school's electronic testing platform to include student identification verification and electronic proctoring. Staff, faculty and students were trained for the testing launch, and students were able to download enhanced security features and complete a mock examination before final exams were taken.
Because early city and state directives originally indicated just a three-week interruption, the didactic curriculum was front-loaded and transitioned online so that, upon returning to campus, maximum time could be dedicated to direct patient care and hands-on technique simulation. As the severity and length of the pandemic grew, class schedules were redesigned several more times before settling on a plan that allowed students to complete the final weeks of spring quarter in late June and early July.
Beginning in June, San Francisco city directives allowed some faculty and staff to come back onto campus to provide patient care and support simulation training. But didactic courses remained online, conducted both synchronously and asynchronously, and many included virtual breakout rooms for small-group discussions or case presentations, as well as chat space for faculty/student interaction. Faculty members have been able to provide virtual office hours as well. A university-wide survey noted that, more than any other students at University of the Pacific, Dugoni School of Dentistry students appreciate online learning options.
"With the invaluable support of Dr. Zheng, many of our faculty were already providing high-quality online content before the pandemic," Lyon explains. "Course directors were able to adopt a standardized online syllabus for easier student navigation and implement a number of new learning strategies. And, in addition to real-time training, Dr. Zheng curates an online web page with learning tools and tutorials that many in the extended dental education community can access and utilize."
The dental school's Division of Continuing Dental Education (CDE) pivoted quickly to shift its in-person lectures and symposia to live, interactive virtual programs. Despite the cancellation or postponement of hands-on workshops, the Registered Dental Assistant in Extended Functions spring cohort was able to complete its 410-hour program, with the assurance that participants would be welcome to return to prepare in advance for state licensure exams. And the CDE team made some online webinars available at no cost to second- and third-year students in June.
Rethinking Emergency Care
Of course, dental emergencies don't recognize pandemics or quarantines. Following stringent guidelines from the ADA and San Francisco Department of Public Health (SFDPH), the Dugoni School of Dentistry's clinical team immediately adapted its protocols to conduct emergency care for existing patients in a new way. "Our wonderful ER team—led by Dr. Debra Woo '86 working with our former chair of endodontics, Dr. Ove Peters—developed a triage process, including the introduction of telehealth methods to access cases and a new appointment system," explains Dr. Des Gallagher, associate dean for clinical services and chair of the Department of Clinical Oral Health Care. "Initially, faculty triaged each case to determine the level of care required and whether the patient should be treated with medication or verbal directives. As we mitigated risk, patients who required in-person appointments were prescreened for symptoms. To ensure efficient and prompt care, our emergency team developed a second-level triage to provide access to specialty care from oral surgery, pediatric dentistry and endodontic specialists."
From mid-March to the end of June, the Emergency Clinic treated approximately 150 patients per month, relieving pressure on local emergency rooms and allowing hospitals to focus on COVID-19 patients. Following SFDPH directives, on June 8 the clinics began resuming care in phases and clinical staff closely monitored the situation as it safely continued to grow its clinical patient load; by early August, it was back to about 45% capacity.
Of course, personal protective equipment (PPE)—both the supply and the required level of protection—and clinical hygiene became more critical than ever. As an internationally known expert in infection control, Eve Cuny—director of environmental health and safety, associate professor of diagnostic sciences and assistant dean of global initiatives—has been in regular contact with the CDC and other public health officials.
"In the midst of every crisis there lies great opportunity," goes the saying. And that belief has been manifested across the entire Dugoni School of Dentistry community since the COVID-19 crisis began. 
One major change, Cuny says, has been the use of N95 respirators instead of regular surgical masks when providing patient care, a move that required staff to undergo medical clearance, qualitative fit testing and training on how to wear and use a respirator. All patients undergoing procedures considered high risk for generating aerosols are asked to have a COVID-19 test immediately before their appointments. Upon arrival, patients are screened again for symptoms. And the dental school's information technology team developed an app that generates a QR code, scanned upon entry, that evaluates those symptoms.
"We've examined air flow in various areas of our clinics to determine the safest way to position patients," Cuny says. "Aerosol-generating procedures are only done in designated spaces, and we've supplemented our already excellent ventilation with HEPA-filter ventilation." Patients are treated as quickly as possible to minimize their time in the clinic, and the disinfecting of all clinical surfaces has been intensified.
A New Approach to Board Exams
Meanwhile, the Class of 2020 was anticipating the Western Regional Examining Board (WREB) exam. "It soon became apparent that it wouldn't be possible to conduct a live, patient-based examination this year," Gallagher says. To solve this problem, Dean Nadershahi worked with the Dental Board of California to explore other options and to lobby for a non-patient exam. While many other schools had to delay the WREB exam, the Dugoni School of Dentistry was able to host a simulated examination during the first weekend in June. The school's building operations team reconfigured its third-floor clinic chairs for simulated patient care, providing expanded simulation capacity on two floors so that all students could complete the exam on campus in one weekend.
But the weekend before the exam was to be held, there were protests, rallies and civil unrest in San Francisco in the wake of George Floyd's death. A local curfew was imposed, making it even more difficult for students to attend practice sessions. Despite the mounting obstacles, "Our DDS and IDS graduating students were able to return to the building just days before the WREB exam to refresh their skills and prepare for this professional milestone," says Lyon. "Our extensive building preparations, safety precautions, faculty dedication, staff support and student resilience were on full display during this challenging time."
Once the WREB results were in, Dugoni School of Dentistry students celebrated a 97% pass rate. A few weeks later, dental hygiene students achieved a 100% pass rate. And current seniors in the Class of 2021 were able to take the prosthodontic portion of the ADEX exam and earned a 100% pass rate.
You Changed the Ending
"In the midst of every crisis there lies great opportunity," goes the saying. And that belief has been manifested across the entire Dugoni School of Dentistry community since the COVID-19 crisis began.
Dr. Alysia Mascolo '20 served as president of the graduating class and spoke at a recent Dugoni School Foundation Board Zoom meeting. "Our class went from planning our spring break trips and planning for the WREBs to the terrifying thoughts of sick families, unfinished patient cases and no idea if we would be graduating in June," Mascolo said. "Within three weeks I was preparing our peers for an entirely new idea of school and dentistry. Every morning we would wake up with 50+ notifications waiting to be addressed."
Raybel Ramos – Assistant Dean, SF Campus Information Technology
Dan Soine – Director of Marketing and Communications
Eve Cuny – Director of Environmental Health and Safety, Associate Professor of Diagnostic Sciences and Assistant Dean of Global Relations
Dr. Des Gallagher – Associate Dean for Clinical Affairs and Chair of Clinical Oral Health Care
Dr. Nader A. Nadershahi '94 – Dean
Dr. Cindy Lyon '86 – Associate Dean, Oral Health Education
Kara Bell – Assistant Dean, Human Resources & Support Operations and SF Campus Director
Kirsten Mickelwait is a San Francisco-based copywriter, content provider and professional storyteller.