Dr. Arthur A. Dugoni: A Philanthropist Inspiring Others
With this issue dedicated to Dr. Arthur A. Dugoni '48, it is difficult to overlook his contributions to his dental school in terms of philanthropy. I have had the pleasure to work intimately with Art in philanthropy, among other areas. He inspired so many of us to join him, always the first to lead by example, in making the dental school their first choice in supporting the school with the three "Ts" of philanthropy: time, talent and treasure. I sent out a "request for your thoughts" to 10 past presidents of our fundraising board, at times called the Pacific Dental Education Association, the Pacific Dugoni Foundation and currently the Dugoni School Foundation. I wanted them to answer why they felt compelled to lead the board. Below is a summary of their thoughts about Dr. Arthur A. Dugoni and philanthropy. —Dr. Craig Yarborough '80
DR. COLIN WONG '65
Dr. Dugoni has been my teacher, my dean, my fellow faculty member, my friend, my neighbor but most importantly, my mentor. I knew Art for well over half of a century. It started when I was in dental school and he was my pediatric dentistry professor. From then on, he had a big influence on my life. He had an amazing talent of recognizing your ability more than you did. When he organized the original P&S Club into what is now the Dugoni School Foundation, he appointed me to be on the board of directors to my utter surprise. What is even more surprising is when I was thinking of retiring from my dental practice, he again appointed me to be the president of the foundation which then embarked on the $50 million capital campaign—the largest among all the dental schools at that time. With Art leading by example, charisma and persuasiveness, together with the board and the development staff, we exceeded the $50 million goal. One of Art's dreams was to have a scholarship endowment large enough to be able to provide free tuition for our students. I have always followed Art's famous saying, "Will you all join me in my dream?" I had the honor to be his strong advocate on the Dean's Search Committee that selected him. Look at what, as dean, he did not only for our school but for dentistry in general.
As friends, my wife and I had the pleasure of travelling with Art, celebrating Art and Kaye's 50th wedding anniversary and finally becoming his neighbor at the Vi at Palo Alto. Together with his family, his colleagues, his students, his friends and his admirers, we will miss Art terribly, but we will always have him in our hearts. Rest in peace, Art, and may light perpetually shine upon you!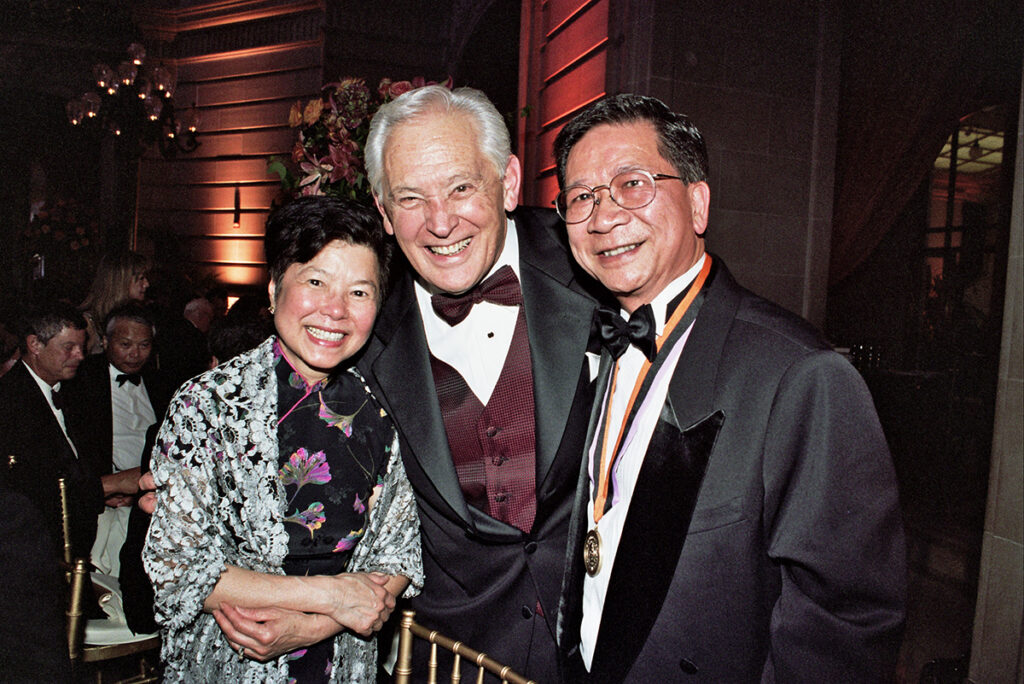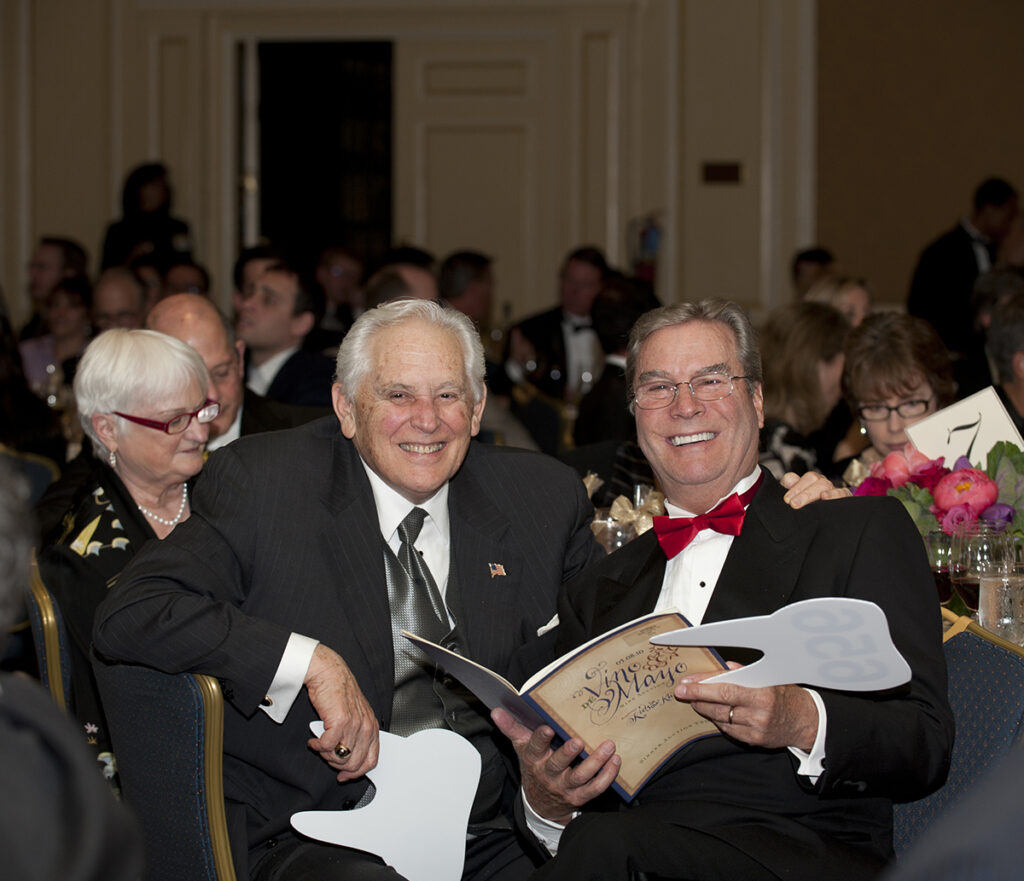 DR. RON REDMOND '66
In 1965, Art was teaching undergraduate orthodontics, and at the end of the session that day he asked about my plans following graduation. I told him of my dream to practice crown and bridge in Palo Alto. He felt that was a laudable goal, but encouraged me to consider orthodontics. He felt my personality and caring nature would be perfect for the orthodontic specialty. I didn't recognize it at that time, but one of Dr. Dugoni's amazing talents was to see strengths possessed by individuals that they didn't recognize in themselves.
As an orthodontist, I came into contact with Dr. Dugoni frequently and began to emulate his teachings. Art became one of my "giants" and the more I admired him, the more I wanted to repay him for his guidance. He suggested that I join the Pacific Dental Education Foundation (PDEF), and through his urgings I became president of the PDEF board. During my tenure, Art presented his dreams for the future of the dental school funded by a $50 million endowment. The PDEF board discussed Art's proposal and launched a $50 million fundraising campaign. When Art asked me to lead the campaign, I agreed to do my best. My overwhelming purpose was to run a successful campaign and honor Dr. Dugoni when the University renamed the dental school as the Arthur A. Dugoni School of Dentistry.
On the day of the rededication of the school in Art's name, he confided in me that his only regret was that his parents were not alive to see this honor. Then, Art corrected himself and acknowledged that they were always watching over him from heaven. God bless you, Dr. Dugoni, for the influence you have had on my life.
DR. JANET ANDREWS HOWES '83
I remember the voice of Dean Dugoni speaking to our graduating class in 1983 telling us the importance of giving back. He said, "If every month you donate the fee you charge for one amalgam you can make a difference." In 1985, as a new graduate only out of dental school for two years, I was fortunate to buy a dental practice in the same building as Art Dugoni. He was not only my neighbor but also my dean when I was in dental school. He became a second father to me. Art led by example. Over the last 40 years, Art showed me on a daily basis the power of giving back. After a successful career, I felt it was not only my duty but my responsibility to give back and pay it forward. As a member of the teaching faculty, I have the unique opportunity to make a difference in the young lives of our students. As the president of the foundation board, I try to follow Art's example and try to make a difference in the lives of generations to come through philanthropy and leadership. It is a privilege to serve in this capacity.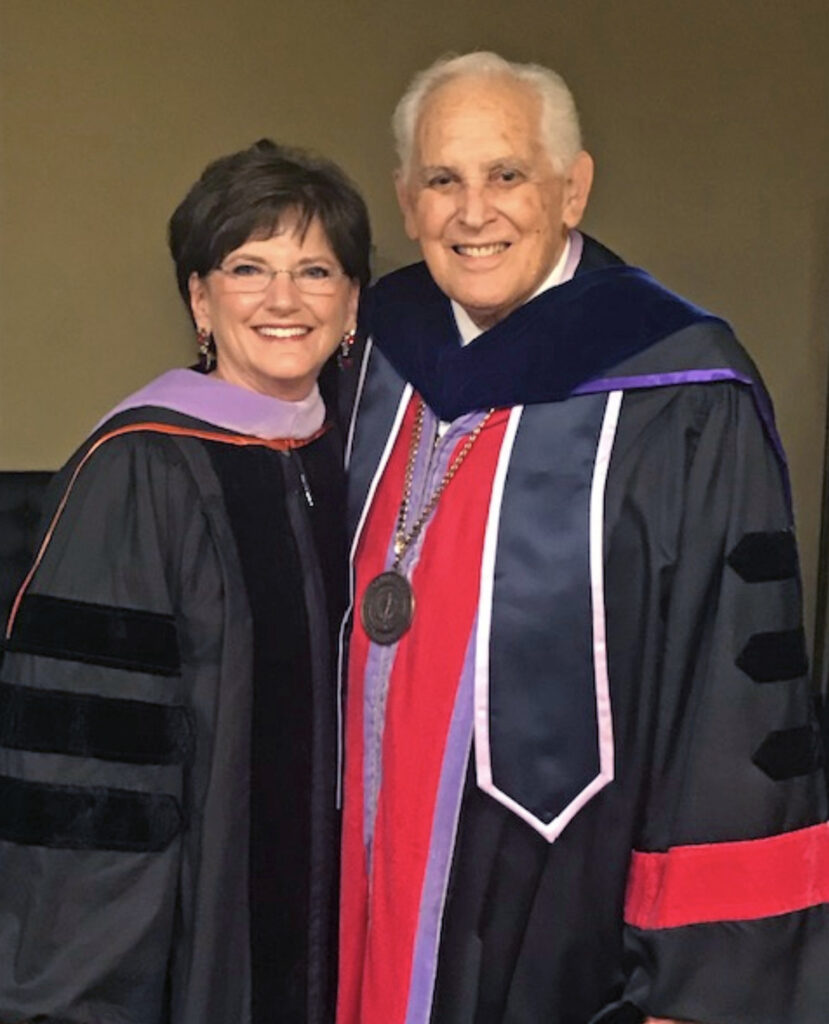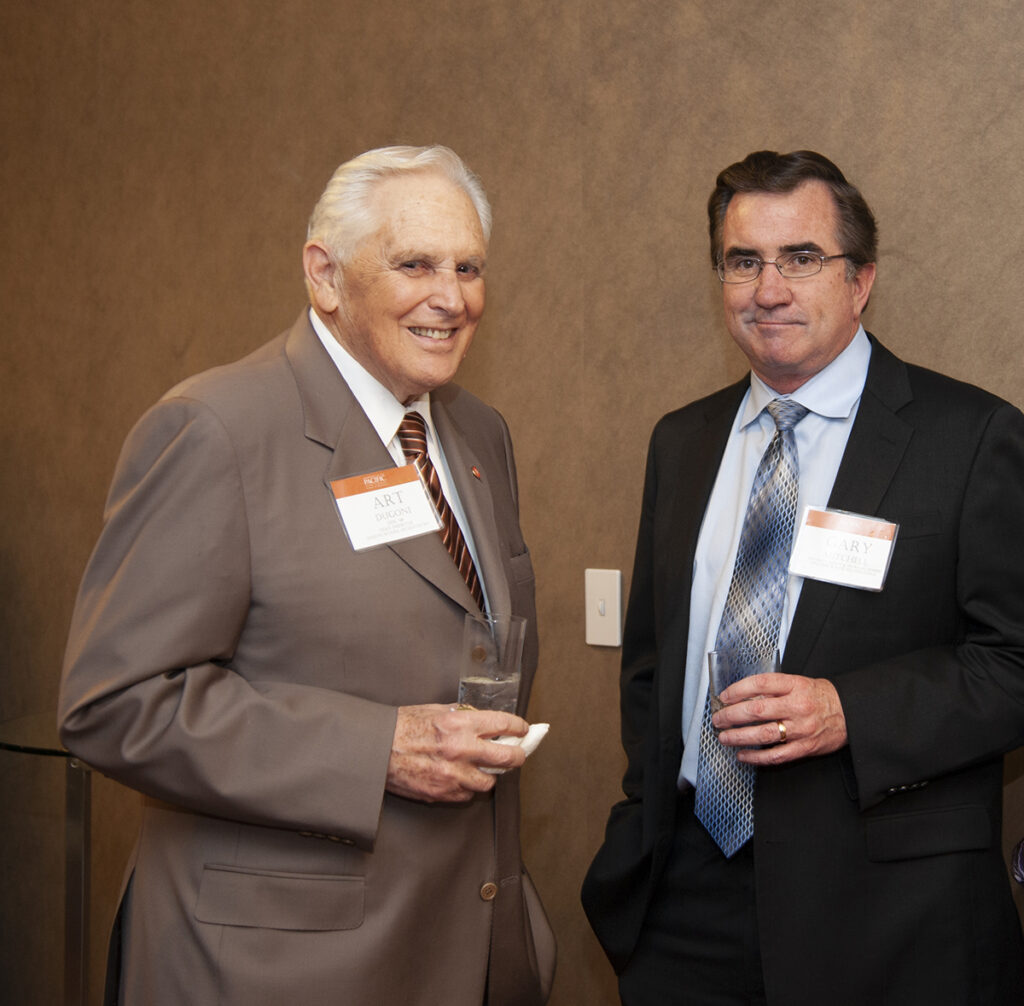 GARY MITCHELL
I met Art Dugoni in 1986. At that time my father was on the P&S board. This was during a time when they would have lasagna dinners and call the alumni for donations to the dental school. When my father retired in 1996, Art asked if I would follow in his footsteps and become a member of the foundation board. Of course I had to agree. No one ever said "no" to Art because of the respect everyone had for him. After several years on the foundation board, he asked me to serve as the president of the board. I couldn't help but question him. I am not a graduate of the Dugoni School nor a dentist. I told him I thought the president should be an alumnus. He disagreed with me and said a non-dentist, non-alumnus would have a unique perspective which would be very positive for the dental school. As mentioned before, I could not say "no" to him. I served two terms as president.
Art once asked me why I gave back so much more to the Dugoni School than the other dental schools I work with. I told him I felt an obligation to this dental school. As most of you probably know, that answer was insufficient for Art. He always wanted to go deeper, whether it was personal, school or business. He always searched for that deeper connection. This is why he was such a great inspiration; he pushed you to really think. I went on to tell him that he might not believe me but all of my closest friends, except my college roommate, were graduates of what we all now know as the Dugoni School. I told him that I do not know what you put in the water, but the faculty and staff are superb and the graduates are wonderful. I have no idea how to pay him back for such an amazing lifelong friendship. After all, what is a lifelong friend worth? I have continued to give back to this day and also had the good fortune of helping to come up with the idea of naming the school after him.
I hope I have made Art proud, because he has made me a better person and better man.
DR. STEVE ROSE '79
When I joined the PDEF board and eventually became president it was one of the most rewarding experiences of my professional career. I had always given what I could to the school over the years since graduating but it was a time to do more. The primary reason for being on the board was to meaningfully contribute to serving the school I love and its mission. Besides that, how could I ever turn down a chance to work closely with Dr. Dugoni and get to work alongside experienced and passionate people for the greater good? When you serve as president of the board, you have the honor, challenge and responsibility to understand how everything needs to work together to accomplish goals. I learned the school needs financial support from the board and alumni to keep running at its level of excellence. The main thing I learned, however, is that giving is really important—but I also came to know that it is incredibly rewarding. I feel there is insurmountable pride in saving and being able to give meaningfully to the Dugoni School of Dentistry. Many thanks to all of you who have contributed over the years. I know we are all proud to be members of the Dugoni School family.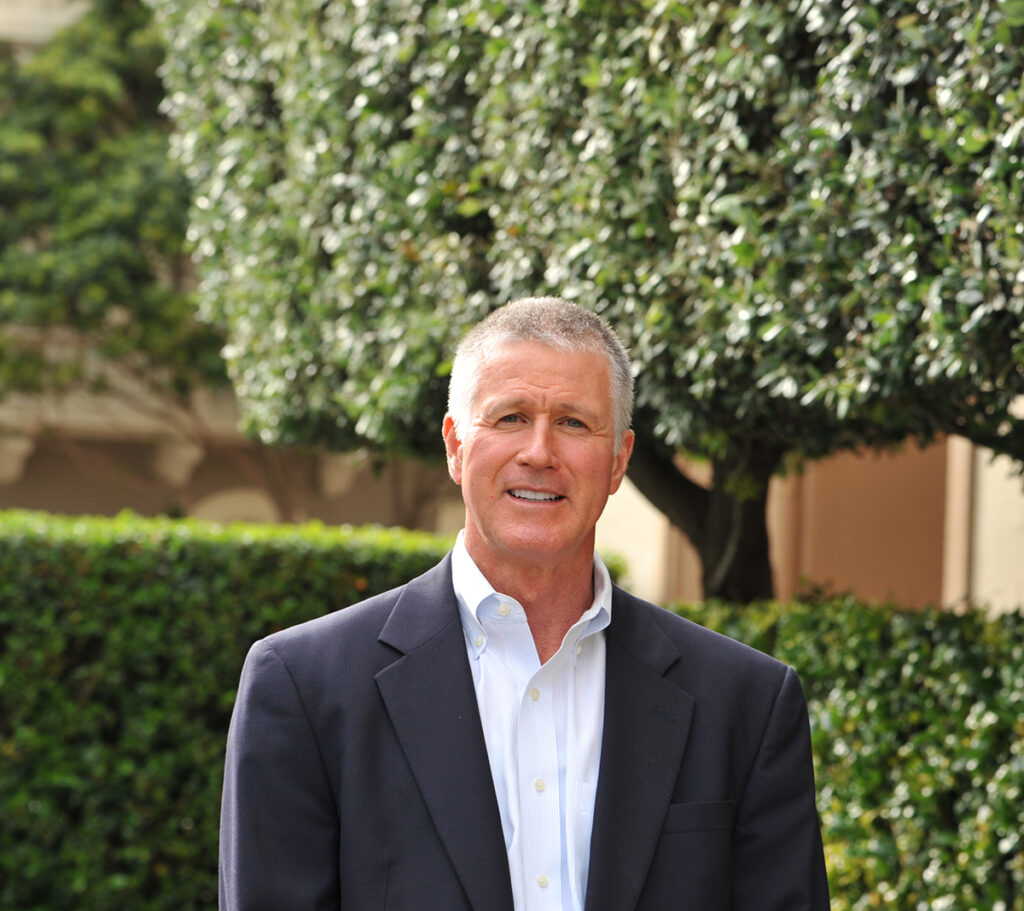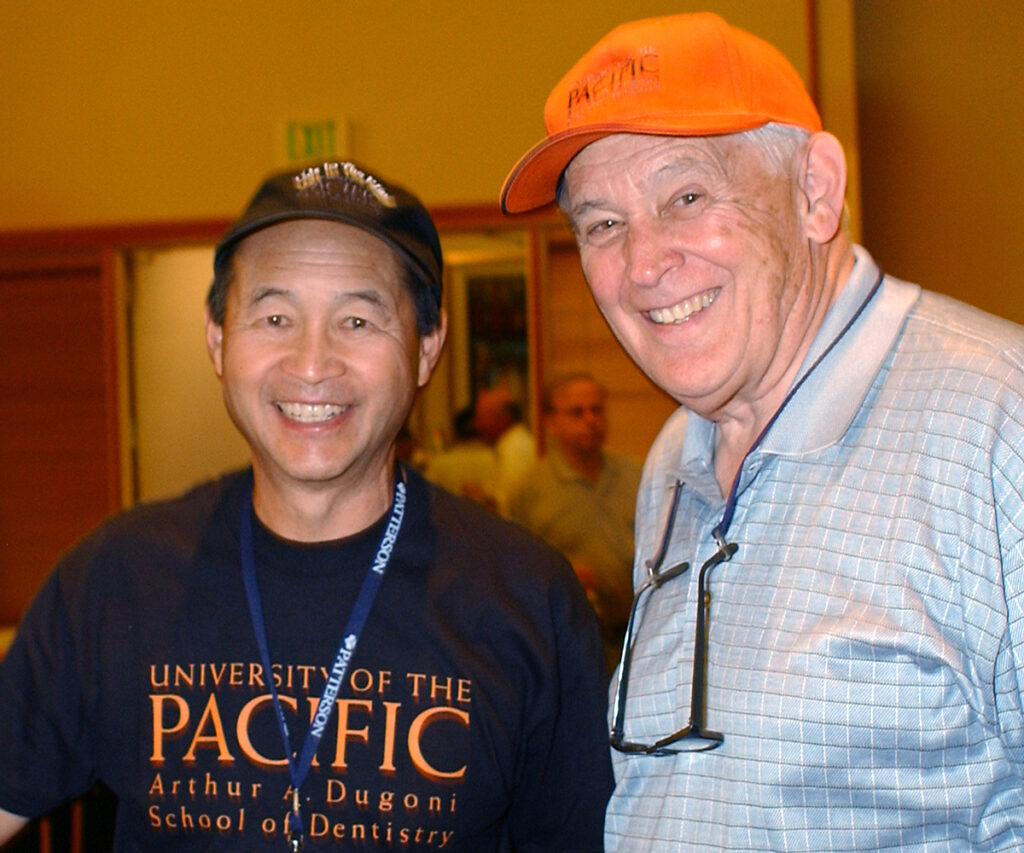 DR. KEN FAT
There is so much praise and so many accolades for Art Dugoni, and I, too, can be counted among his admirers. In 1986, I became active with the Pacific Dental Education Foundation board and served with Art through 2003. This board consisted of dentists and individual supporters who met monthly in a small room at the school while it was still on Webster Street. I would drive in from Sacramento after work to hear and discuss the needs of Art's programs for the dental school. We were fed Art's favorite lasagna dinners, sometimes lukewarm and served on paper plates with plastic utensils, during the meeting. Having come from a restaurant family, I found that the real treat for the evening was not this Italian specialty, but Art's presentation regarding his goals and aspirations of excellence for the dental school and its students. He always said that University of the Pacific School of Dentistry's philosophy was to "grow people, and along the way they become doctors." This certainly turned out to be true with my dental family. My son J.C. '88 met his wife Shareen '86 at the school, and now my granddaughter, Michelle '19, is the most recent graduate. My daughter Diana, who completed her program in 1999 and went on to become an accomplished prosthodontist, credits Art for having a positive impact on her as well as the rest of the family. Even though I am a graduate from the other dental school in San Francisco, I have seen the tremendous difference in the spirit and professionalism at Pacific.
It is not often that one is able to witness or be inspired by such a great leader. To have Art Dugoni as the dean mentoring my family, and so many other wonderful dentists who have come through this institution, is quite a rare opportunity. I have faith that his vision will endure. To this end, I am and will always be committed to supporting the excellence that is part of his legacy.
DR. JOHN FEASTER '74A
Dentistry has allowed me to realize my dreams. I have had personal and financial success because of this wonderful profession. It was Dr. Colin Wong who invited me to join the PDEF board after one of the trips to China with a small group of dental school alumni. I served eight years and was president during Art's final year as dean. Art was not only a mentor but also became a dear friend. We worked together on the new dean search and the $65 million fundraising campaign. I valued and appreciated my education and wanted to give back in some way. One of my favorite memories with Art was in Beijing, China, where he was the keynote speaker at an international meeting. It was a giant hall with about 1,000 dentists from China and Southeast Asia. There were three or four of us from the dental school with him. He was introducing Invisalign® to this part of the world and at the end of his presentation there was a thunderous standing ovation, the stage was mobbed with dentists trying to meet Art and come to the San Francisco dental school. I leaned over and told Art, "You just became a rock star." That magical smile of his lit up his face. He will always be my rock star!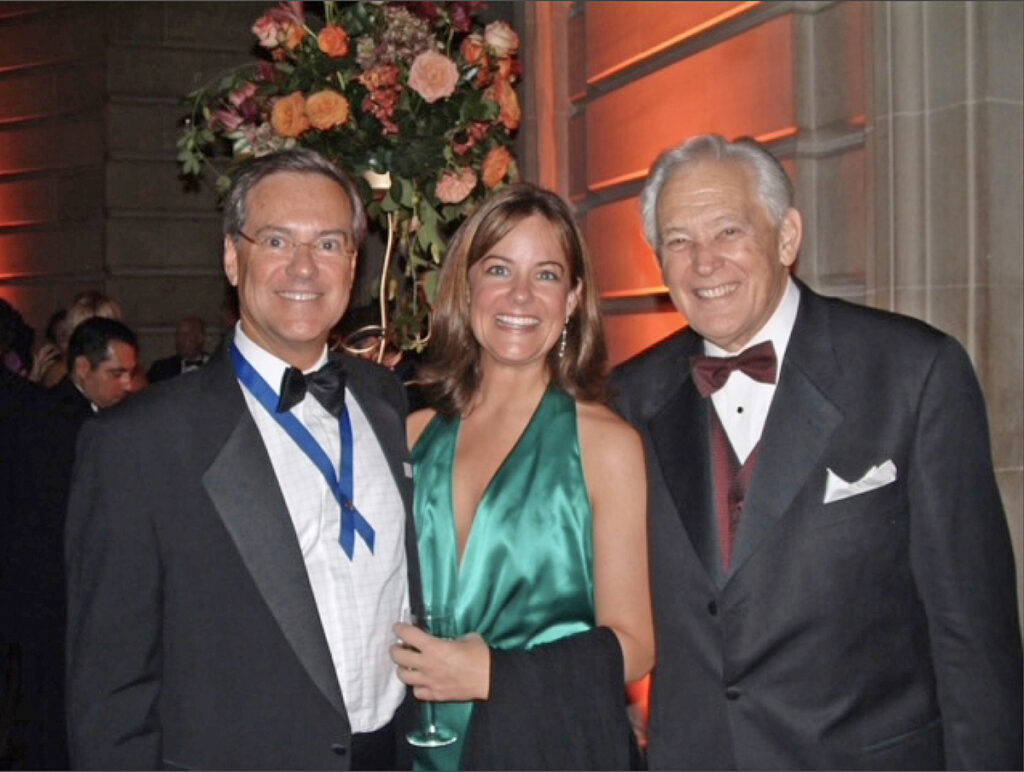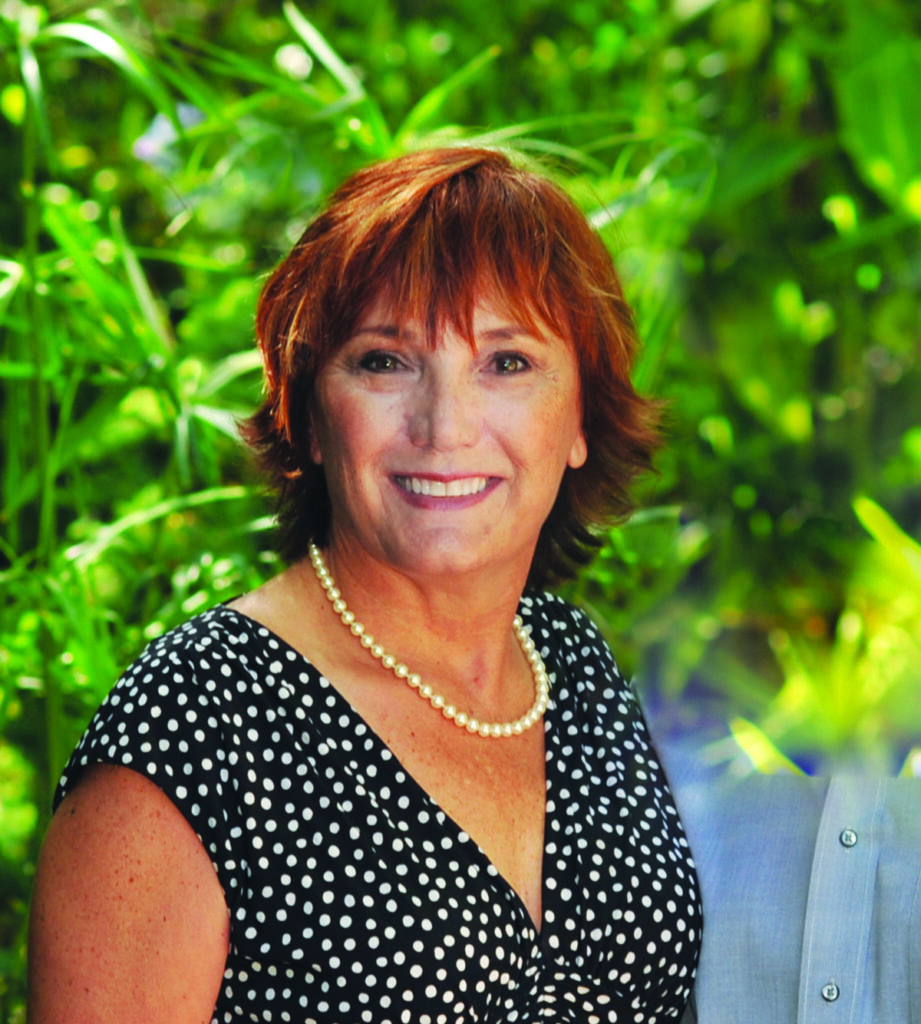 DR. GABBY THODAS '77, '95 ORTHO
Throughout one's life, there are many people who touch, inspire and influence you. You may be aware of these touches or you may not. You may interact with these people or they may remain anonymous. I never discovered the identity of those who made it financially possible for me to complete my dental education. I am sure I knew some of them and met them at some point throughout my career, but those who enabled the financing of my education when my scholarship was eliminated remain to this day unnamed. These are the people who inspired me to give back in any way possible.
One must not make the mistaken assumption that only the large and public instances of philanthropy are beneficial. One can be of service and value at all levels of participation. I was deeply honored when I was asked by the dean to be president of the PDEF board. With the talented and hardworking members of the development team, we were able to continue to work toward our fundraising goals, which included financing for the new building at 155 Fifth Street as well as programmatic and scholarship endowments. But we never believed, and those of you reading this must never think, that any gift of time, talent and treasure is of lesser value than any other. Your gift is the inspiration that keeps all of us motivated an encouraged to keep moving forward.
STEVE TIRET
Art was an inspiration to me in many ways and I miss him very much. I was asked to join the PDF board in 2000 and have been proud, privileged and honored to be president of the board for three years. Not being a dentist but a CPA, I, along with my firm Tiret + Company, work mostly with dentists and many Dugoni School graduates. It has been our way of giving back mostly inspired by Art.
While on the board for more than 20 years, I developed a close professional and personal relationship and friendship with Art. I enjoyed the rounds of golf we played, as well as trips to visit donors. I've never met a more incredible man. With all the accomplishments in Art's life, he was always one of the guys. On one of our trips, I shared that when I was very young I wanted to be a dentist. Dr. Herb Ward was our family dentist and Dr. Ward offered me a scholarship to the dental school. Unfortunately at that time, I was fully engaged in our CPA firm so I had to decline.
Art is always in my thoughts and I loved the man he was.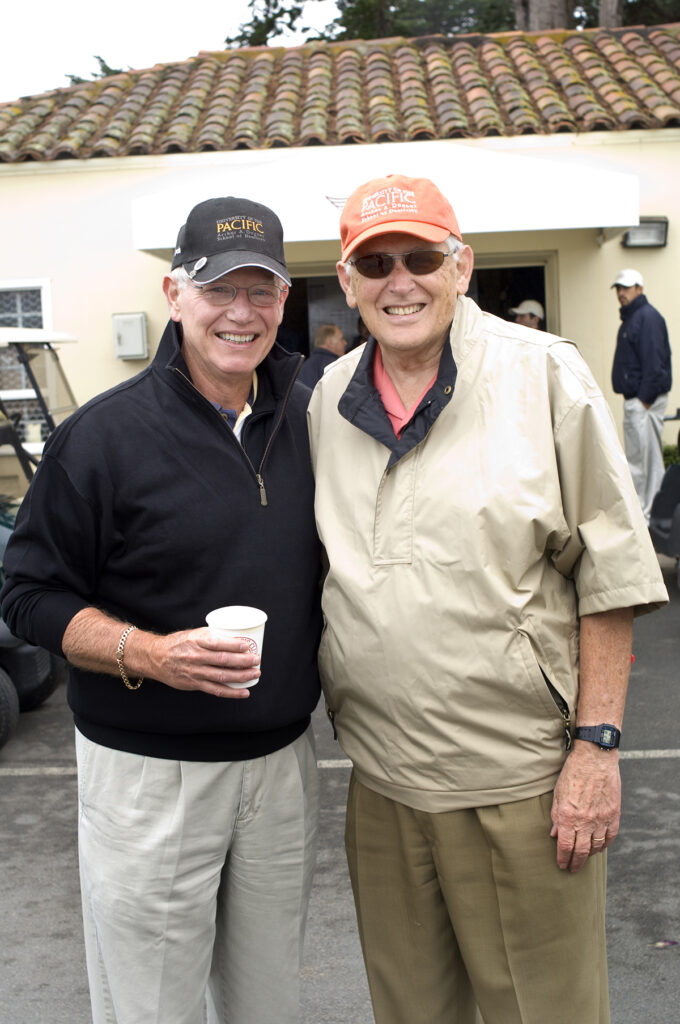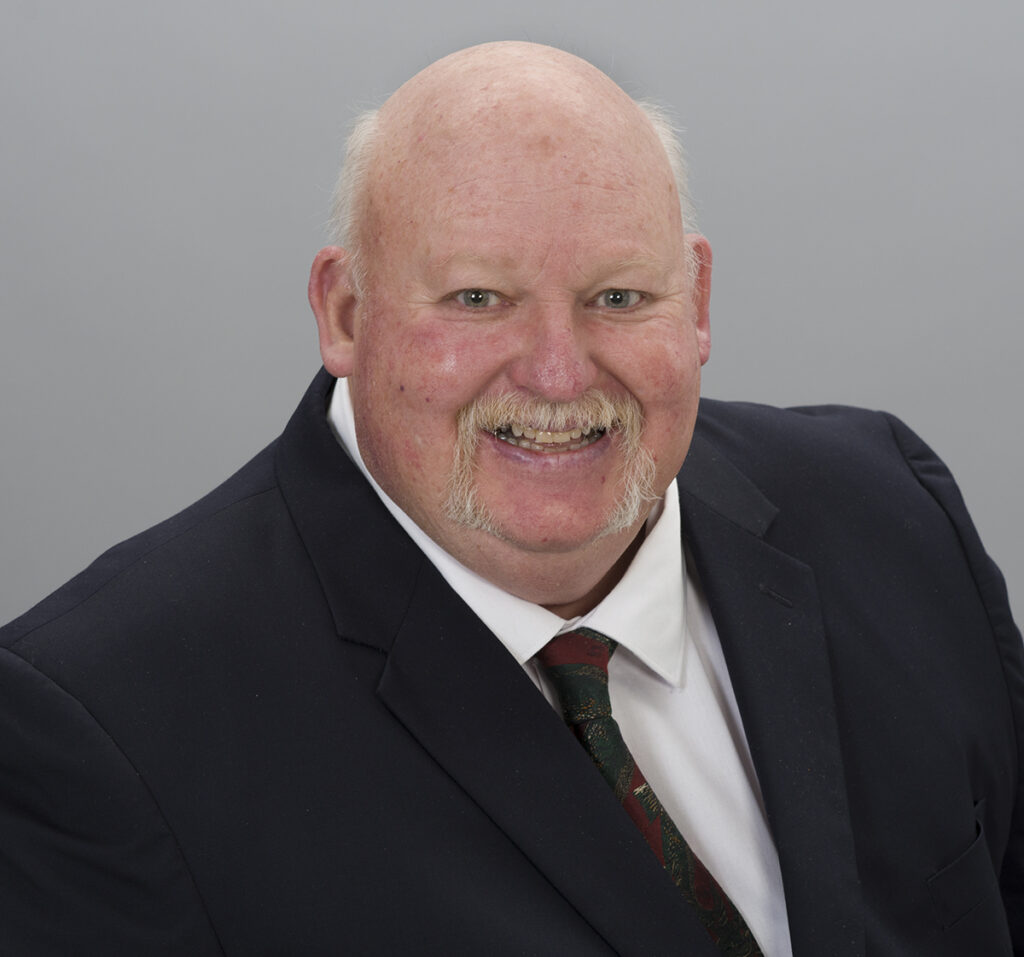 DR. TOM BALES '74B
Serving on the PDEF board with Art in the final years at the 2155 Webster Street campus was one of the highlights of my volunteer experience at the dental school. While Art was not dean when I was there as a predoc student from 1971 to 1974, he made himself available to all alumni just as if he was. Fortunately, my daughter Katie had him as her dean from 2000 to 2003 and she remembers him fondly, especially for remembering her name even after a dozen years. I joined and served on the PDEF board and as its president to help with fundraising and enjoyed it immensely. Thanks Art, for all you have done, and continue to do with your scholarships.
Remembering Dr. Dugoni through Philanthropy
The Office of Development has been receiving many gifts in memory of Dr. Arthur A. Dugoni '48. Thank you all so much! His profound legacy of humanism and philanthropy, among so many other core values, have inspired individuals to support one or both of the designated memorial funds: the Art Dugoni Scholar Endowment and the Arthur A. Dugoni Orthodontic Endowed Scholarship.
The Art Dugoni Scholar Endowment will help offset the tuition — hopefully the entire tuition when fully funded — of an incoming DDS student who will shoulder the legacy of Dugoni throughout their education here. At graduation, the scholarship will be designated to another incoming student, in perpetuity — the value of an endowment in solidifying our future. The endowment was started by five individuals associated with Rodeo Dental in Texas, including three classmates — Drs. Saam Zarrabi '08, Brian Dugoni '08, '10 Ortho and Yahya Mansour '08 — and two additional partners — William Dunklin, DDS, and Raffy Kouyoumdjian, DMD.
Zarrabi explained the group's motivation, "After seeing Art for the last time at the 2020 Legacy Ball, his grandson Brian and I got to talking about the need for us to step up, rally the troops and give until we feel it. On a Zoom call with Art a few weeks before he passed away, I was able to tell him that Brian and I, along with our other dental partners, had decided to fund an endowment and name it in his honor. In true Art fashion, he was thankful for our support and immediately offered to match what we were giving. So, before we knew it, the five partners at Rodeo Dental had committed to give $100,000, and so did Art!"
The Arthur A. Dugoni Orthodontic Endowed Scholarship (formerly the Orthodontic Resident Endowment) is another Dugoni endowment that helps offset tuition for our current graduate residents, collectively. Dr. Ken '85, '87 Ortho and Laurie Shimizu generously gave a lead gift of $250,000 which has been split between the two endowments. Shimizu says, "It's a great feeling to be able to offer help, whether it is to an individual, an institution or to a dream. Laurie and I recently decided to make a gift to the Dugoni School of Dentistry and also to the Department of Orthodontics in support of the dream that was so dear to Art Dugoni. His dream was to attract the best students to our dental school and to lessen the financial burden of their education. It would be wonderful to have you join me in making Art's dream a reality."
These are large commitments helping turn dreams into reality, but every dollar counts—and is matched dollar for dollar by the University's Powell Match program. Make a difference today by going to dentalgifts.org or contact Jim Dugoni, senior director of development, at jdugoni@pacific.edu.