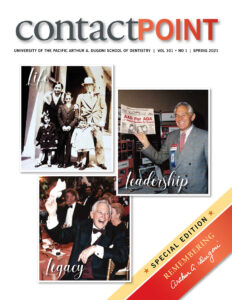 There are many words to describe Dr. Arthur A. Dugoni '48. I know that we all have our own personal descriptors and fond memories of our legendary dean emeritus.

Ten past presidents of the Dugoni School Foundation share their thoughts on Dr. Dugoni and philanthropy.

The Arthur A. Dugoni School of Dentistry is playing an important role in speeding up the distribution of COVID-19 vaccines in the community.

Promotions, awards and appointments at the Dugoni School of Dentistry.

A journey through the remarkable life of dentistry leader Art Dugoni, with photos.

Dugoni's influence on dental education, organized dentistry, provision of care and philanthropy will echo for generations.

Dr. Arthur A. Dugoni '48 had a way of turning problems into solutions and crises into breakthroughs.