By Marianne S. Jacobson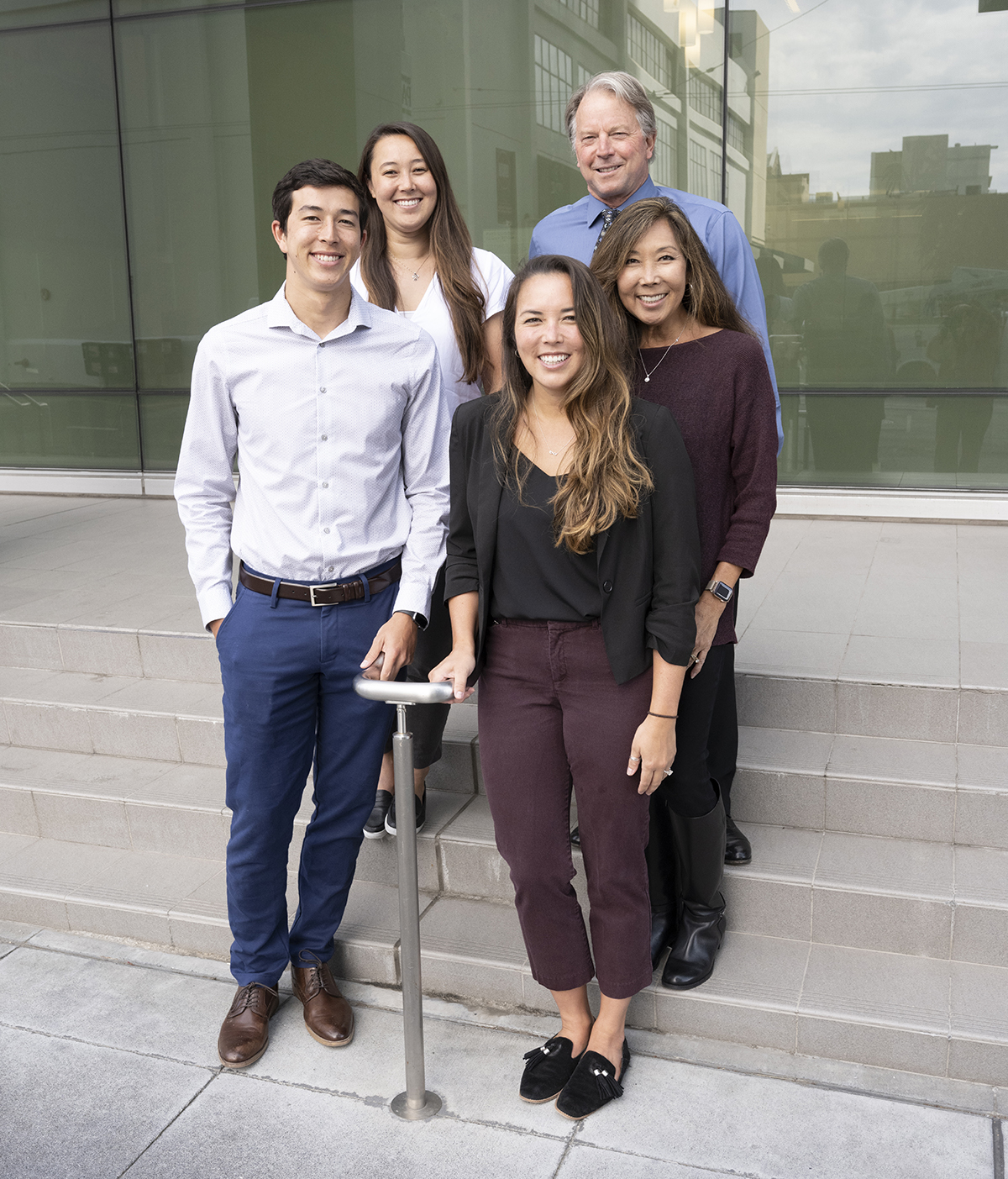 While many families associated with the Arthur A. Dugoni School of Dentistry boast a number of alumni and generations of graduates, dentistry truly is a family affair for the Tittles. Dr. Kenneth W. Tittle '89, assistant professor, Department of Endodontics, and Dr. Konni Kawata Tittle '89, instructor, Department of Preventive and Restorative Dentistry, and their children, Dr. Mia Tittle '18, Endo Class of 2022, Lani, Class of 2022, and Mason, Class of 2024, are members of the first family to have all three children enrolled in dental school at the same time while both parents are also serving as faculty members at the Dugoni School of Dentistry. "It is extraordinary!" remarked Alumni Association Director Joanne Fox. The extended Tittle family includes 11 dentists across four generations and still counting. Mia is newly engaged to Dr. Matthew Spero '18, whose uncle, Dr. Ken Frangadakis '66 is also a Dugoni School of Dentistry alumnus.
It was love at first smile; Ken and Konni fondly remember their first encounter. Ken was struck by Konni's beauty in the clinic, while Konni noticed Ken's athleticism as he played during the annual dental school basketball tournament. They started dating during their second year of dental school; their first date was unsurprisingly a large Dugoni School community outing to an A's baseball game.
While their background stories are quite different, both Ken and Konni's fathers were dentists and both come from families forged from hardship that led to strong family bonds and cultures of drive, hard work and humility. Konni's parents survived Japanese American internment camps during WWII and Ken's midwestern grandfather, also a dentist, lost his entire family at age 13 in an explosion. Their ancestors persevered despite these challenges. Konni, Ken and their three children are products of supportive family environments and they personify a positive, well-balanced, modest, "get it done" attitude.
Photo by Ben An

Photo by Michelle Fat

Mia in the Endodontic Clinic with father Ken observing.
Photo by Jon Draper.

The Tittle family in 2005. Photo by Jon Draper.
Konni was raised in West Los Angeles in a close-knit family, and all four of her brothers also pursued medical careers, two as dentists. She completed her undergraduate studies in biology at the University of Indiana. After graduating from the Dugoni School of Dentistry in 1989, she practiced general dentistry, first with her father and brother, then in a practice with fellow alumna Dr. Cindy Gaynor Eliahu '83. After her children were born, Konni juggled work and parenting before joining the Dugoni School of Dentistry, first as part of the Admissions Committee in 2012 and then as a faculty member in 2014.
Ken had a self-admitted "idyllic" childhood in a rural part of the East Bay. Growing up, he tinkered with model rockets, fishing rods and photography—always bent in a scientific direction. He shared that he was "fortunate to have parents who provided everything I needed and didn't spoil me with what I didn't need." He finished his endodontics residency in 1995 at Loma Linda University and master's thesis in 1996, then opened his Diablo Valley Endodontic Specialists practice in Pleasant Hill, California. He loves the location, but most appreciates the talented referring dentists in his community. He has been a faculty member at the Dugoni School of Dentistry for many years. In addition to teaching several days each month, Ken serves on the Board of Directors of the American Association of Endodontists.
Konni and Ken carried forward their own strong family values and histories to their children. The Tittle five are extremely close, enjoying many activities together and with strong admiration for one another. Mia confessed "they are my four best friends," while Mason professed that his two older sisters "perform at a very high level in all they do, which keeps the pressure on me, but is very inspiring."
Sports, the outdoors and family meals were foundations for these strong bonds. "Growing up, my parents were really good about having our family do things all together," said Lani. "We share a love of swimming, the outdoors, hiking, camping, fishing and surfing."
Mason added, "Talking and joking at dinner was special and helped us keep connected."
Ken passed down the love of water which he learned from his father. Mason, like Ken, was an accomplished swimmer on the University of California, Santa Barbara Division I men's swim team. Both Mia and Lani swam and played water polo in high school, which Lani continued at University of California, San Diego.
Now that their parents are colleagues, a new dimension has developed for the Tittle family. "We have new respect for them as colleagues and mentors and it is really fun to bounce ideas off our parents and learn from them," said Mia. While all are rarely on campus at the same time, Mia continued, "It is a kick to see them all at school, at lunch with their friends and at Dugoni School events." Mason shared the frequent joke on campus, "How many of you (Tittles) are there?"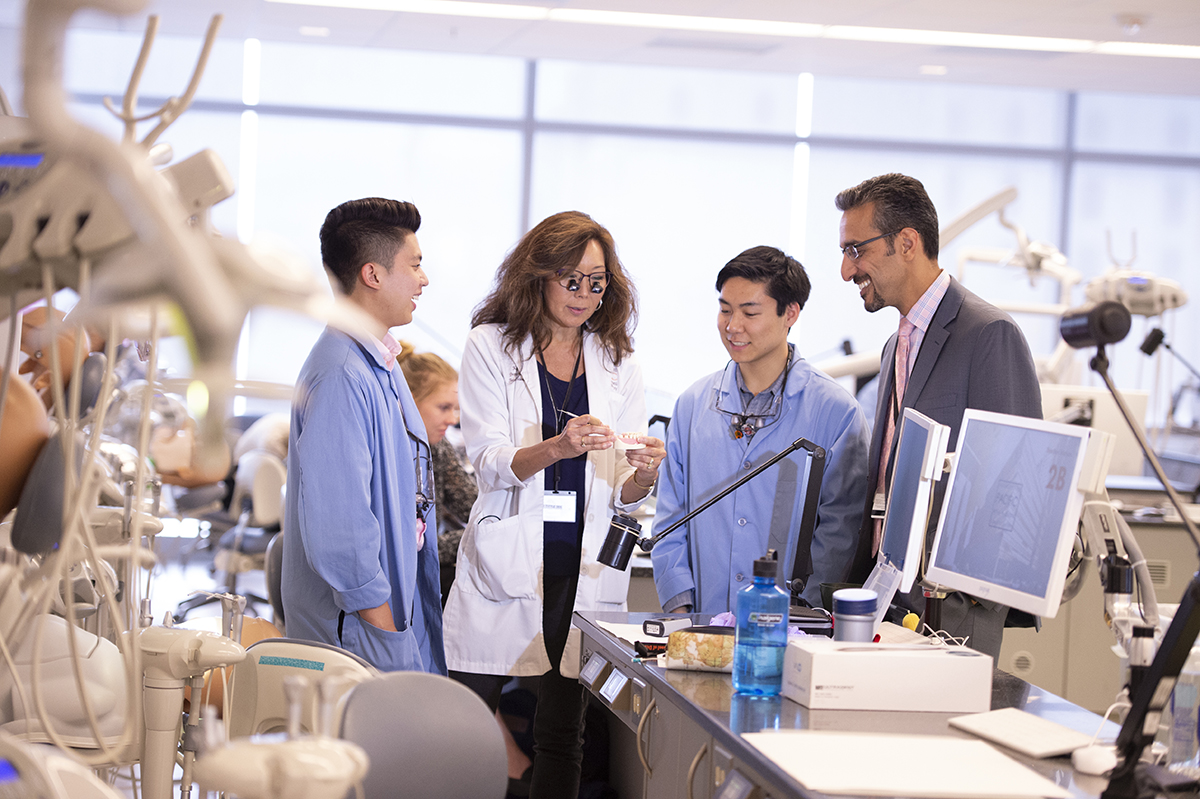 It is clear that Konni and Ken raised three highly accomplished, capable yet modest people. Stan Constantino, assistant dean for admissions, student affairs and diversity, commented that Mia, Lani and Mason "embody the characteristics that we appreciate and want in our students—bright, athletic, well-rounded, humble, kind, sweet, giving, unentitled, thoughtful human beings."
In addition to their own children, countless other dental students have benefited from Konni and Ken's mentoring abilities. Constantino notes that Konni is widely regarded as empathic, supportive and approachable. Nicknamed by some of her students as "my dental school mom," Konni shared the best part about teaching is "observing how much the students blossom and grow from unsure first-years in blue lab coats into confident dentists-to-be in clinic and graduation gowns."
"Ken is an integral part of the endodontic graduate lecture series," shared Dr. Alan Gluskin '72, professor and vice chair of the Department of Endodontics. What Ken enjoys most about teaching is "imparting knowledge to students who are just beginning their journey." He believes that technique is critical but being a good diagnostician is even more important and hopes his students would say, "I made them think." Ken is hopeful that Mia will join him in his practice next year once she completes her endodontic residency. Gluskin lauded both Ken and Mia as extremely well-suited for their specialty. "They are highly detailoriented, brilliant and dedicated to both the art and science aspects."
Aside from Konni, who vowed to become a dentist when she was 12 years old, the rest of the family made the decision to enter dentistry during or following college. While the kids all considered other professions, it appears they couldn't escape their dental lineage. "We didn't push them towards dentistry. We know there are other careers out there but all we know is dentistry," Konni remarked. "For our kids, college and graduate school were a 'given' similar to our own upbringings."
"Dentistry was always in the back of my mind, but I wanted to look into other things first," Lani explained. She explored physical therapy and lifeguarding—and even served as caregiver for her maternal grandma—but ultimately realized dentistry had everything she was looking for in a career: hands-on work, relationships with patients and a good lifestyle. Mia and Mason had similar reflections when deciding on dentistry.
All five Tittles chose the Dugoni School of Dentistry for similar reasons: the accelerated threeyear curriculum, the humanistic culture and supportive atmosphere, location and family recommendations. Regarding the three Tittle children, Constantino said, "They were all admitted on their own merits. What we are looking for is strong academics— but a lot more too—and the Tittle kids all mirror the core Dugoni School values: humility, empathy, compassion, dedication to service, leadership, reflection and critical thinking. That they chose to attend the Dugoni School demonstrates that we have special people and a unique program."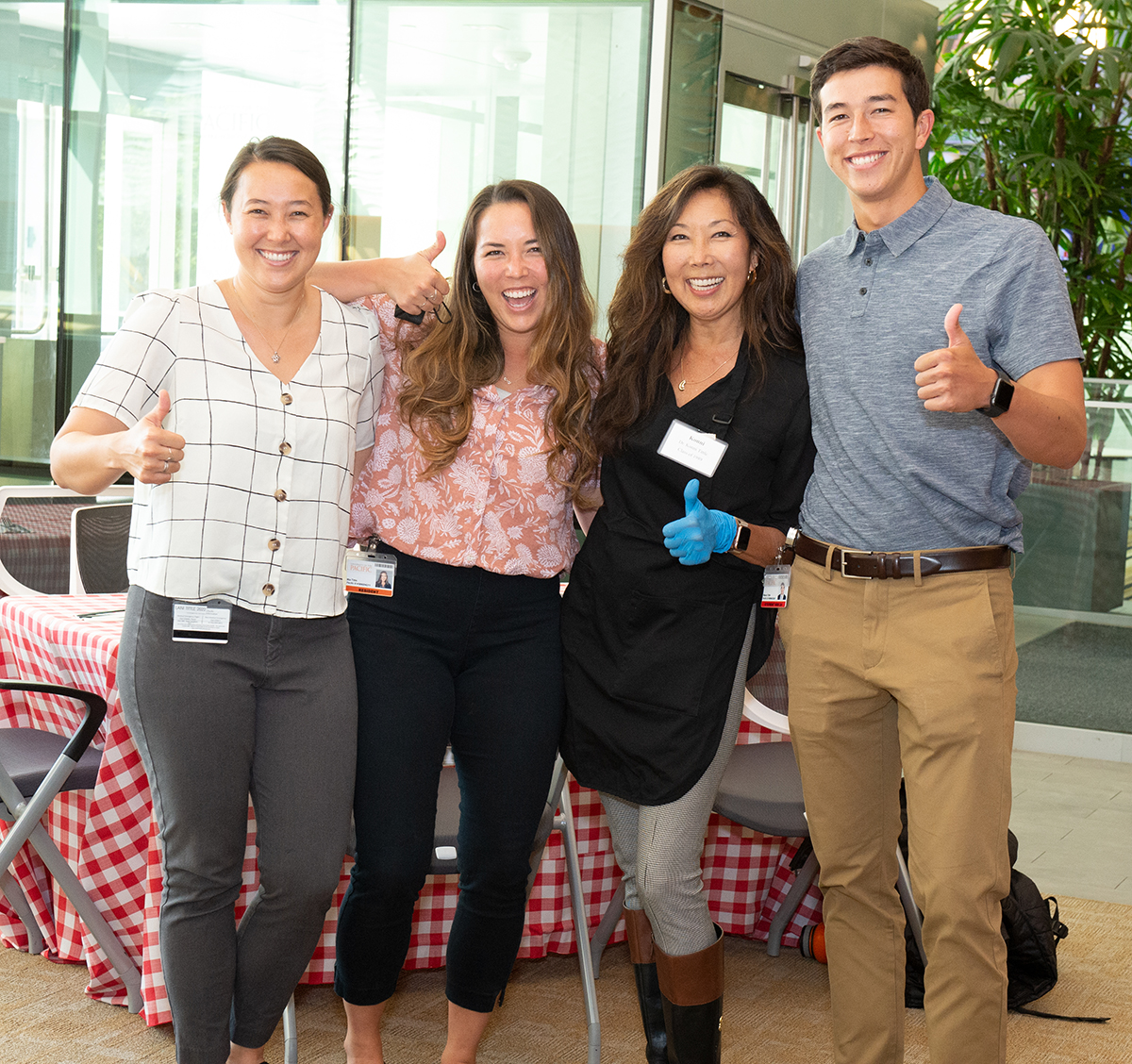 The Tittles cite both family and professional mentors for their success. For Konni, Dr. Eddie Hayashida, former associate dean for administration, has been a lifelong role model and mentor, who was instrumental in her joining the school's Admissions Committee. The late Dr. Arthur A. Dugoni '48, dean emeritus, left a lasting impression on Ken and Konni. "Dr. Dugoni's speech on leadership at my induction into the American Board of Endodontists was like watching Michael Jordan in the NBA Finals," Ken said. Konni added, "Dean Dugoni was an amazing person, leader and administrator who was able to create and grow the positive culture of the school," and she is proud to be affiliated with the dental school because of him.
Ken's dad influenced him most with his curiosity and passion for lifelong learning. Konni said, "My dad was one of the most gifted dentists; he was a perfectionist and had such a light touch. I learned that by working with him and it made such a difference for me and my patients."
In addition to the mentorship of their parents, the younger Tittles are grateful for the influence of their grandparents. Mason and Lani mentioned their maternal grandparents. Of the grandmother she took care of for a year, Lani said, "She is the kindest woman; I try to be like her every day."
"My grandfather was the most humble and caring person I've ever met and he is still a big influence in my life," Mason shared. Mia talked about both sets of grandparents, calling out her paternal grandfather as inspirational for his hard work and dedication. "Everyone in the community where I grew up knew him and would say wonderful things about my grandfather, which made me very proud."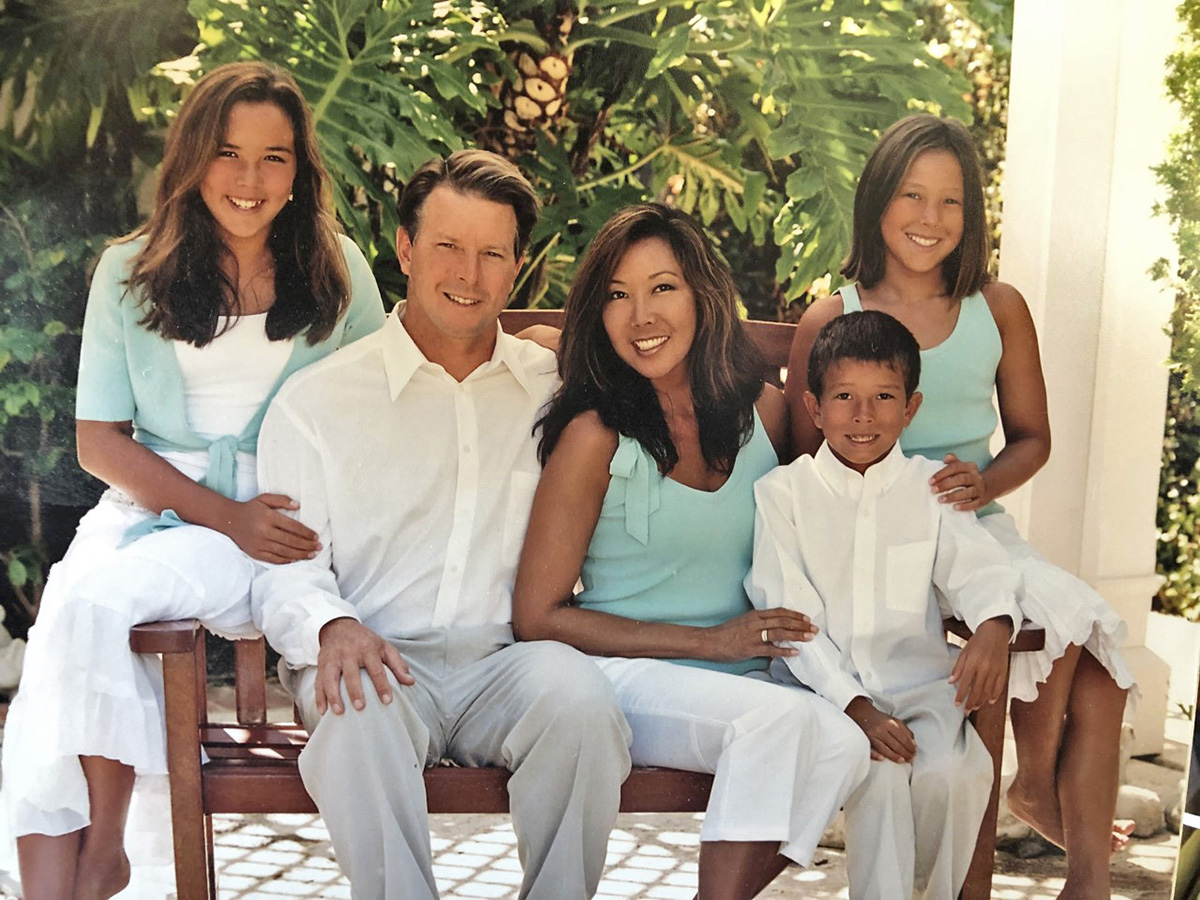 While the dental school has changed since the 1980s, the collaborative, humanistic culture created by Dr. Arthur A. Dugoni and other leaders and the top-notch quality of the students remain the same. Konni and Ken agreed that today's students are under more pressure and stress. "As a teacher, I see how overwhelming it is for students to spend countless hours on their computers doing coursework in addition to the added layer of mastering dental software," Ken said. Konni added, "They have to live up to very high expectations."
What has changed most are the facilities; with Ken remarking that the campus move from Pacific Heights to downtown has created an "urban vibe." Konni and Ken laughingly recall how pre-clinic was much more simplistic in their student days—they practiced with rods that held prosthetic teeth in place with no lips or jaws, while today the Simulation Lab is outfitted with operatory-style patient chairs and life-like manikins with lips, mouths and teeth. Gluskin points out that today's cutting-edge technology reflects "Pacific's willingness to invest in the future and adopt the latest technology like 3D imaging and rotary technology."
Ken and Konni are proud of their family and feel lucky that they and their children are all part of the Dugoni School of Dentistry community. The Tittles add to the school's culture and supportive fabric. Fox summed up the important role of the Tittles and the legacy they are creating. "Each one of the Tittles is influential among their peers and we can count on them to be champions of the dental school. Parents Konni and Ken give back with their time and treasure; both are faculty members, active members of the Alumni Association and together they are major donors to the school's philanthropic endeavors. We know that Mia, Lani and Mason will follow in their parents' footsteps, leading by example and always thinking of the Dugoni School community as their second family."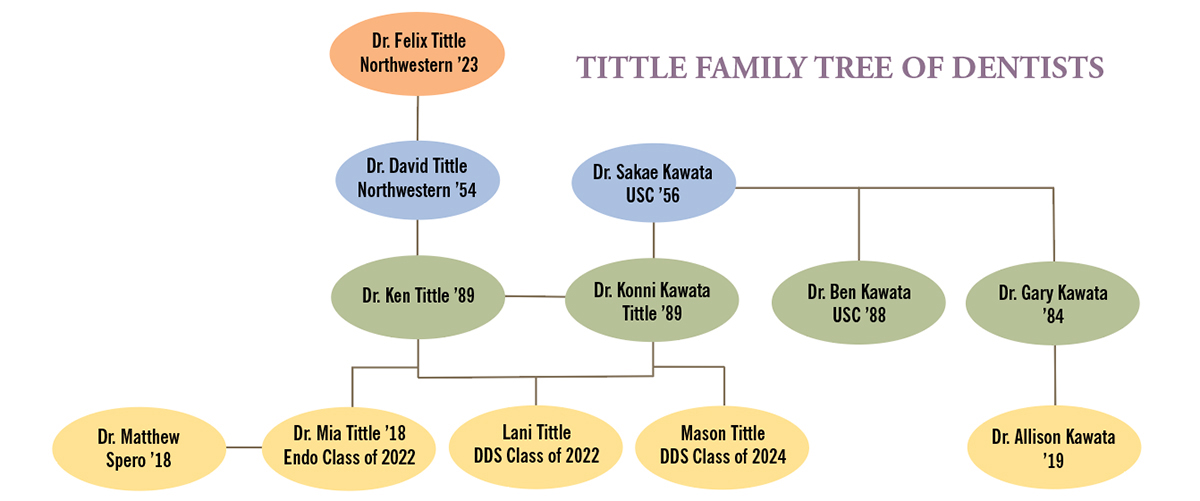 Marianne Sampogna Jacobson, BA, MBA, is a freelance writer from Marin County.