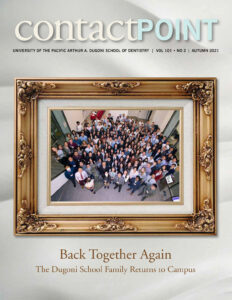 Our autumn issue comes amid a milestone year in the history of the Arthur A. Dugoni School of Dentistry.

As a first-generation college student, Stan Constantino found his own way through school and career—a journey that took him across the Pacific Ocean.

The school is proud to have Jencek serve as the first female leader of the dental school's development enterprise.

University of the Pacific and the Arthur A. Dugoni School of Dentistry lost a champion on June 26, 2021 with the passing of former University Regent Herbert K. Yee '48.

Events that happened, events that are happening. Save the date for the 2022 alumni weekend!

Recent news from the Dugoni School, including the Pacific Center's name change, the school's 125th anniversary and the return of the White Coat Ceremony.

For its first three years, the College of Physicians and Surgeons (P&S) held dental classes in the rented Federation Hall in San Francisco.

We can all agree that the past year and a half has affected every aspect of our lives, from businesses to public events to family gatherings. Dental education was no exception.

All dental professionals—even the youngest graduates of the Arthur A. Dugoni School of Dentistry—can reflect on how dentistry has changed within their lifetimes because of evolving technology. The way that dental education is delivered has been transformed by technology too, especially during the recent pandemic.

The extended Tittle family includes 11 dentists across four generations and still counting.