By Ashley Musick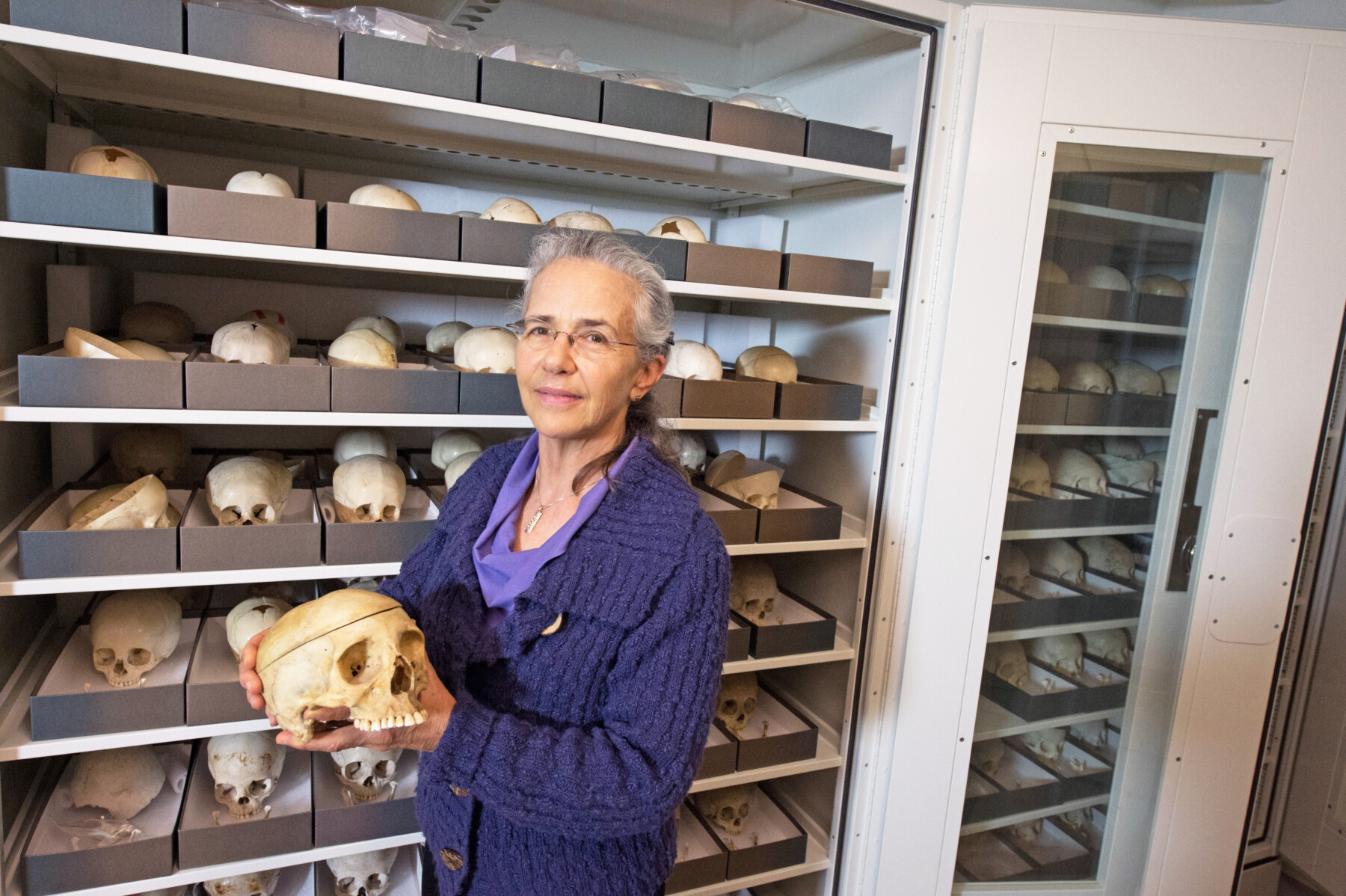 Dorothy Dechant, MA, PhD, has always been passionate about the importance of contemplating and acknowledging nature, something that greatly influenced her desire to pursue biological anthropology as a student at University of California, Berkeley (UCB).
During her undergraduate program, Dechant volunteered to work at University of California's Museum of Paleontology preparing fossils, working with specimens and constructing databases. She went on to receive a master's degree and PhD in biological anthropology—both from UCB. This fueled her fascination with evolution and humanity's place in nature, which later led her to successfully co-found a natural history museum in Virginia— an experience that helped her realize how much she enjoyed the challenges of working in a museum environment.
Having taught briefly at City College of San Francisco before joining the Arthur A. Dugoni School of Dentistry as a museum coordinator and adjunct assistant professor in the Department of Biomedical Sciences, Dechant explains, "I started thinking about how to get funding to improve the preservation of the collections and increase their accessibility to researchers and to faculty for teaching. I was branching out and trying to be creative with the position."
The Dugoni School has always given me a lot of independence, that are important for the school, the students and the profession. which I appreciate because it has allowed me to be creative in directions that are important for the school, the students and the profession.
As curator for the Center for Dental History and Craniofacial Study at the dental school, Dechant has since expanded her role beyond monitoring museum acquisitions to include researching and creating exhibits, a transition that led to her instrumental involvement in creating a virtual museum for the Dugoni School of Dentistry.
When the dental museum moved from the Webster Street campus to its current location, Dechant faced the challenge of keeping all of the collections accessible despite limited physical space. "The dean at the time was Dr. Patrick Ferrillo, and his thought was, 'We can't take all of this with us to the new school, so how about we photograph everything?'" says Dechant. "He called it the virtual museum project, and the idea was that we would create virtual exhibits instead of having the traditional museum setting."
Dechant worked tirelessly with Jon Draper, in-house photographer, to take images of the A.W. Ward Museum of Dentistry artifacts and redesign them into the Virtual Dental Museum, with the goal of creating exhibits that expose students and professionals to a variety of topics involving dental history.
"I am always impressed with the depth and detail of the information she gathers on each subject," says Sandra Shuhert, director of design and photo services. "Dorothy has brought our collections to life by creating engaging digital and physical exhibits at the school and in our online Virtual Dental Museum that can be shared with and enjoyed by the world."
Dechant demonstrates aspects of dental evolutionfor students visiting from Peking University School of Stomatology using a shark jaw specimen from the P&S Comparative Anatomy collection.

The P&S Years display case, located in the foyer of Dorfman Hall, features vintage artifacts from the dental school, classrooms and clinic.
Dechant appreciates working with the P&S Comparative Anatomy collection, which is composed of skulls from a broad variety of animals, and developed a way to use the collection to teach dental evolution. "I enjoy it very much, because it's something dental students aren't normally exposed to," says Dechant. "I call my class 'The Truth About the Tooth' because students see and learn about human teeth constantly, but they aren't able to readily do hands-on and direct observation of the huge variety of tooth shapes or numbers that are in the jaws of other mammals, fish and reptiles."
Dechant recognizes that even though most students will follow a more traditional dental career path, this class provides them with a broader perspective on how teeth originally evolved. "It seems that every time I finish teaching that course, the students are really happy that they took it because they typically have limited experience with observing the teeth of organisms other than humans, and they find it interesting."
Visit the Virtual Dental Museum at dentalmuseum.pacific.edu
In addition to her various responsibilities and specialized projects, Dechant also acts as a resident historian for the dental school. From answering alumni questions to providing the administration with historical information, Dechant realized that she could modernize the school's archives much like she did with the museum.
"One of my projects before the school moved in 2014 was to scan all of the volumes of the CHIPS school yearbook and Contact Point alumni magazine. Before, you couldn't search the history of the school very easily, so having those series of volumes scanned has revolutionized my ability to find information quickly."
"Dorothy is incredibly meticulous and takes her job as school historian very seriously," says Shuhert. "She has a deep understanding of our archives, and over the years has built an important research tool for dental and anatomical professionals across the country."
Dechant is also responsible for the school's Spencer R. Atkinson Library of Applied Anatomy collection, an invaluable, world-renowned collection that consists of more than 1,500 human crania assembled by orthodontist Spencer R. Atkinson—primarily from autopsies and biological warehouses. Professionals from across the globe and advanced students conduct research with specimens from the Atkinson collection.
A recent project that Dechant led was the repatriation of Native American remains to certain tribes, something that wasn't possible before the school changed locations because the Atkinson skull collection was dispersed. Though there are very few Native American remains in the collection, Dechant recognized the importance of this initiative and began the highly specialized process, which required formal communication with the tribes, other museums and the Native American Graves Protection and Repatriation Act organization in Washington, D.C. Dechant's ultimate passion lies in evolution, a theme that unifies her broad range of responsibilities. From creating virtual exhibits to digitizing the Dugoni School of Dentistry's historical archives, Dechant's ability to use a modern setting to access the past is a defining characteristic of her accomplishments at the dental school. She was recognized with the Medallion of Distinction Award, the Alumni Association's highest honor, in 2017.
"The Dugoni School has always given me a lot of independence, which I appreciate because it has allowed me to be creative in directions that are important for the school, the students and the profession," said Dechant. "I appreciate how they have trusted me to take things in a good trajectory, and I feel like I've accomplished that in my work with both the dental history and the skull collections."
Ashley Musick is a freelance writer from Anaheim, California.