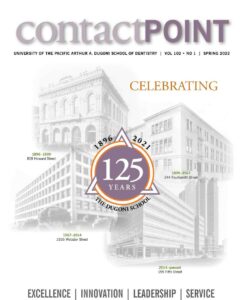 As curator for the Center for Dental History and Craniofacial Study at the dental school, Dechant has expanded her role far beyond monitoring museum acquisitions.

A serendipitous encounter during a dog walk helped this actor find his dental home.

Recent news from around the Dugoni School of Dentistry, on and off campus.

Updates from across the three campuses

Highlights from recent events of the last several months.

Dental school remains a significant investment of time and money. The DDS program tuition at the Arthur A. Dugoni School of Dentistry, for example, is currently $119,360 per year. In order to encourage students with high potential to attend, the dental school has a robust scholarship program.

In dental education and in the real world, technology is helping us to communicate better,faster and more efficiently.

The past 125 years molded the Dugoni School of Dentistry to resilience, flexibility, productivity and humanism.