New Center for Innovation and Translation Expands Clinical Research Partnerships
The Arthur A. Dugoni School of Dentistry recently launched the Center for Innovation and Translation, bringing together internal and external collaborators who will develop inventive practices and translate clinical research to improve oral health care in the United States and beyond.
The school's location in the San Francisco Bay Area is in the hub of many fields, including biotechnology, big data, artificial intelligence and emerging technologies of all kinds. The center will facilitate small pilot initiatives and clinical studies to drive evidence for larger, better-informed and more significant grant applications for translational and clinical research.
The center will also host the Dugoni School of Dentistry's "biobank" to facilitate a new era of patient sampling and clinical assessment and investigation for global academic and commercial access. Work will include big-data analysis to find links between oral and general health, and the use of salivary diagnostics to improve the ability to diagnose and treat oral and systemic conditions.
Dr. Rebecca Moazzez, chair of the Department of Preventive and Restorative Dentistry, is the center's director. An advisory board is being formed that will include but not be limited to school leaders; representatives of research organizations; commercial companies; and a patient or other members of the public. Alumni and others interested in becoming involved are invited to contact Dr. Moazzez at rmoazzez@pacific.edu or 415.780.2068.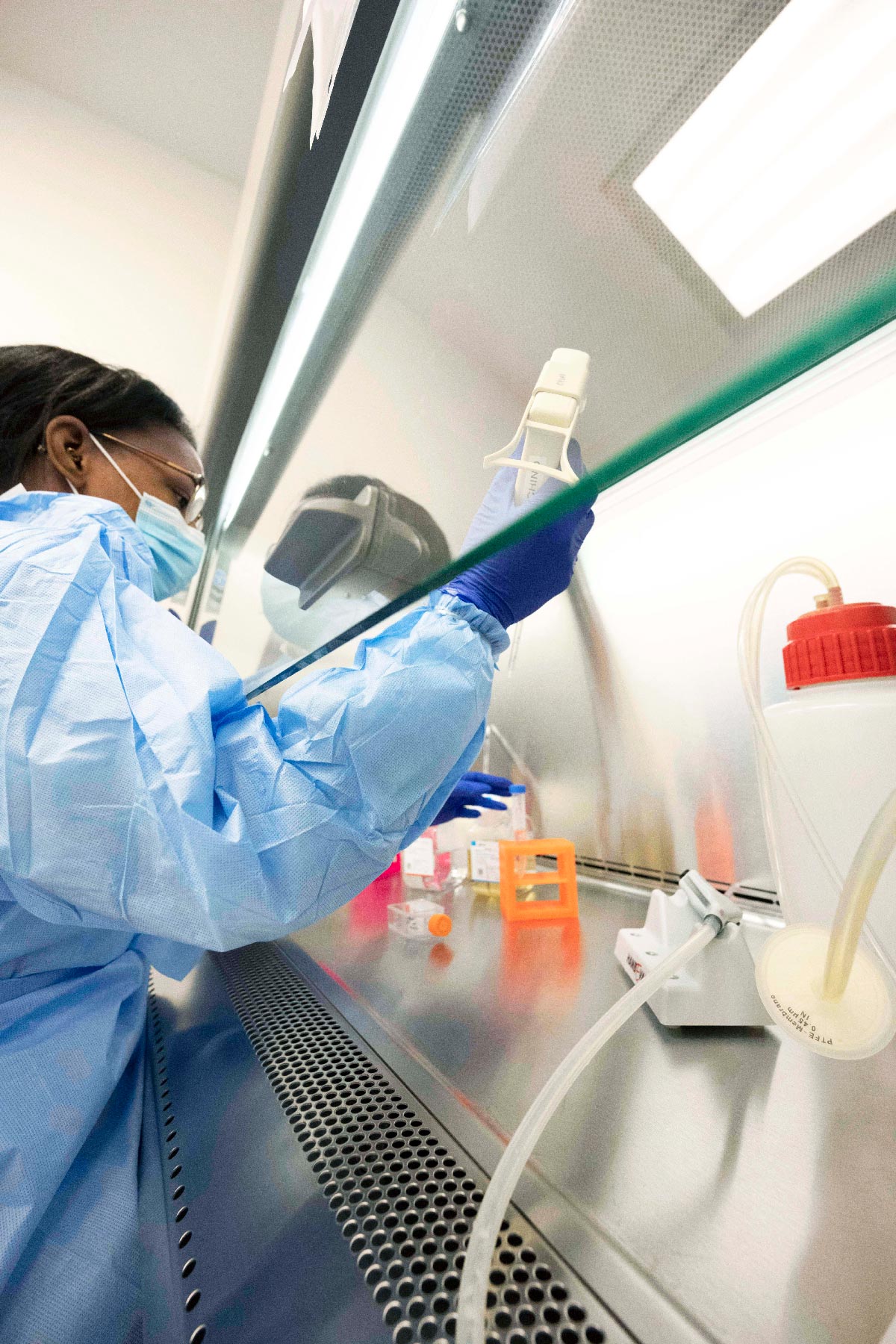 National Leaders Share Insights During Visits to the Dugoni School
Two national leaders in the field of oral health were on campus recently for visits with the Arthur A. Dugoni School of Dentistry community, offering the school constituents an opportunity to hear first hand about some of the latest national developments in research, clinical practice and health advocacy.
Rena N. D'Souza, DDS, MS, PhD, director of the National Institute of Dental and Craniofacial Research (NIDCR) at the National Institutes of Health, participated in a day of activities at the dental school in August 2022. NIDCR is the federal government's lead agency for scientific research on dental, oral and craniofacial health and disease. Her visit included a lunchtime presentation, "The Future of Oral Health is in Your Hands," geared towards students and residents. In the evening, she gave a Dean's Speaker Series presentation, "Oral Health for All: Realizing the Promise of Science," which was open to the entire dental school along with Bay Area alumni and members of the local scientific research community.
Also in August, Dr. Raymond A. Cohlmia, executive director of the American Dental Association (ADA), visited the Dugoni School of Dentistry campus. He toured the school and met with student leaders, faculty and staff. Cohlmia previously served as dean of the University of Oklahoma College of Dentistry and as an ADA Board of Trustees member before assuming his current role at the ADA in November 2021.
Gifts Support Creation of Unique Health Care Collaborative in Sacramento
The Arthur A. Dugoni School of Dentistry has received two significant gifts to help create an innovative new teaching and patient care facility—the Pacific Health Care Collaborative—that will be one of the first of its kind at a university.
A $4 million gift from Stephen and Pamela Thorne IV, announced in June 2022, serves as the lead gift for the new project. Thorne IV is the founder and CEO of Pacific Dental Services, one of the nation's leading dental support organizations. Separately, the Delta Dental Community Care Foundation recently announced a $250,000 Access to Care grant to the Dugoni School of Dentistry for the project.
The Pacific Health Care Collaborative will include the creation of a new clinical and academic facility in Sacramento's Oak Park neighborhood. It will be designed to house comprehensive primary health care services to the public, while providing an integrated clinical learning environment for students.
The clinical model will offer students who are training to be dentists, physician assistants, nurses, pharmacists, occupational therapists, nutritionists, social workers and other healthcare providers the opportunity to learn and work together. The dental school is collaborating with Pacific's School of Health Sciences and Thomas J. Long School of Pharmacy to develop the project. It will include expansion of the school's successful International Dental Studies program, as well as other programs in the School of Health Sciences such as the Physician Assistant Studies program.
In addition, the facility will serve as a safety net for vulnerable and underserved populations in the Sacramento area. It will offer patients preventive, acute and ongoing dental and medical care, conveniently located in one setting. Approximately 20,000 medical patients and 10,000 dental patients from across the northern Central Valley region will be served annually.
Architectural plans for the facility are currently being developed. The facility is expected to open to the public in 2024.
Volunteers Care for Jamaicans in Need as Global Outreach Resumes
After a two-year hiatus, a group of volunteers resumed the dental school's tradition of global outreach trips with a visit to Jamaica during the fall break in early October. Thirty-eight students and nine faculty members cared for approximately 665 children and adults during a visit to Eltham. Care included 403 extractions, 180 fillings (composites and amalgams), five anterior root canals and 105 cleanings. More than 2,000 children were instructed on oral hygiene. The visit was coordinated by Great Shape! Inc., an organization that the Dugoni School of Dentistry has worked with in previous years.
"This trip was unforgettable! It was such a great feeling to be able to serve people through dentistry," said Dominique Winfield, Class of 2023. "The smiles on the faces of the Jamaican people after receiving free dental care were lovely. We were able to do so much work and learn a ton along the way. Everyone was so incredible and stepped up to the plate to help more people get the care they needed and deserved; it was beautiful to watch."
Students and faculty are also planning a global outreach trip to Guatemala that is being scheduled for spring break.
AAOF Commits Additional Funding to Craniofacial Growth Legacy Collection Project
The American Association of Orthodontists Foundation (AAOF), the charitable arm of the association, recently committed $540,000 to the Craniofacial Growth Legacy Collection project—an open-access website and database of nine collections, from both the United States and Canada, of longitudinal craniofacial growth records in untreated children and adolescents.
Under the direction of the steering committee including Drs. Sean Curry, Mark Hans, James McNamara and Heesoo Oh '05 Ortho, chair of the Department of Orthodontics, the newly committed dollars will fund the next phase of the project, with the aim of increasing its visibility as a resource for orthodontic research.
"The collection has significantly contributed to expanding knowledge on human development by giving access to 842 subjects and more than 18,900 radiographs of irreplaceable longitudinal growth records," said Oh, chair of the steering committee. "Our committee is grateful for the AAOF's continued support of this historic project."
The school's Department of Orthodontics has been closely involved in the project for many years, both as a member of the consortium of schools providing collections and by supporting the collection's database and interactive website through the school's Craniofacial Research Instrumentation Laboratory (CRIL). To explore the collection, visit aaoflegacycollection.org.