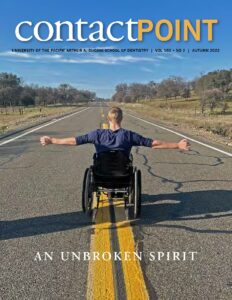 Our official celebration of the Arthur A. Dugoni School of Dentistry's 125th anniversary year may be behind us, but it leaves us with an opportunity to reflect on our future.

"I really love this school. It's very fulfilling to work with the students, and many of them have become my lifelong friends."

Charting a new path forward after a devastating accident, Franz Wall remains engaged with dentistry.

Updates from across University of the Pacific's three campuses.

Recent news from around the Dugoni School of Dentistry, on and off campus.

Professor Harry A. True served as chair of the Department of Operative Dentistry for 33 years.

Dean Nader A. Nadershahi '94 chats with two other deans about their careers, lives and the legacy of Art Dugoni.

An incomparable, decade-long fundraising campaign, "Building Our Future, Embracing Our Legacy," which concluded in summer 2022, raised a whopping $69.3 million, almost $5 million beyond its $65 million goal.

My life's journey was shepherded through the Comanche Nation.