By Ashley Musick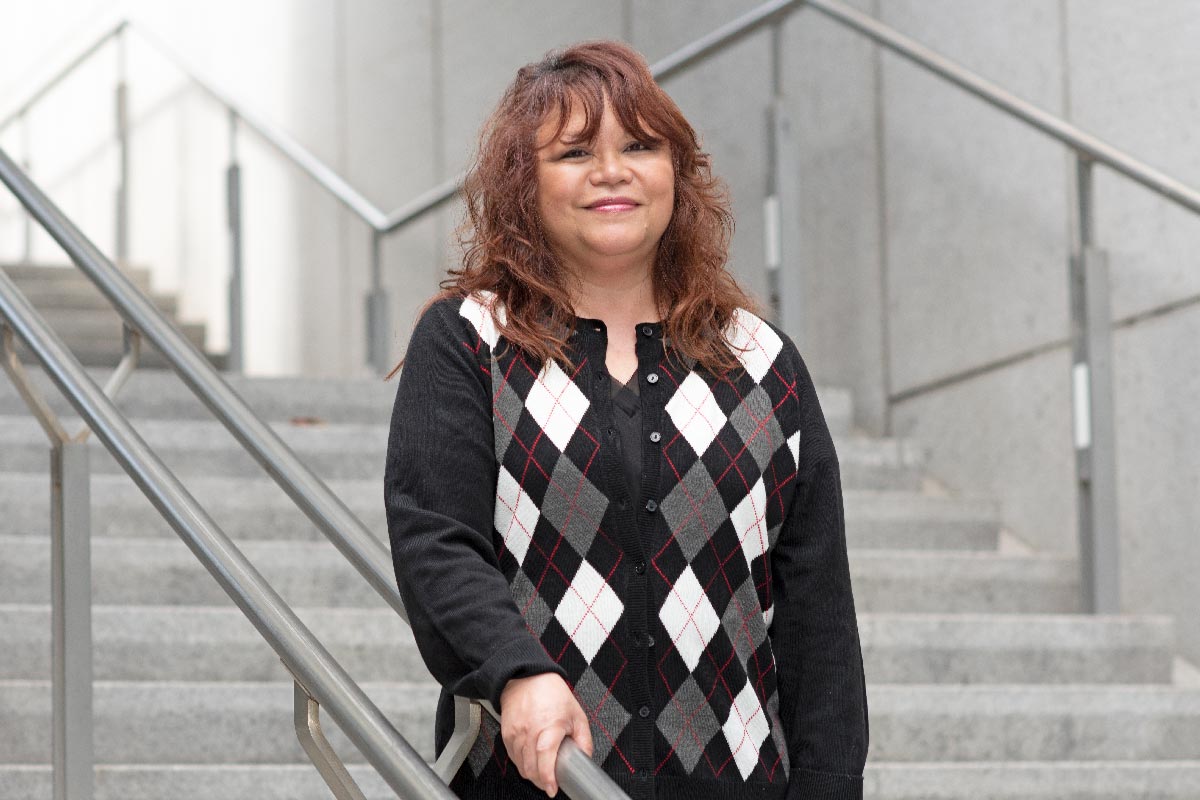 Born in the Philippines, Marietta Daniel and her family moved to San Francisco in 1966 to pursue better opportunities. Although her father was a practicing dentist in the Philippines, he worked nights as a baggage handler while studying to earn his dental license in the United States. Daniel has lived in Pacifica, California, ever since, fondly recalling parties at her parents' house growing up—hosted by the Filipino Dental Society that her father was involved with.
In 1976, Daniel attended Skyline Junior College in San Bruno, California, with the goal of transferring to San Francisco State University to become a registered nurse. However, a friend of Daniel's suggested she look into the cosmetology program at Skyline College, as Daniel often cut and styled her friends' hair while in high school. Daniel ultimately earned an associate of arts degree in addition to her cosmetology license, and worked as a hair stylist until 1995.
It wasn't until a friend from cosmetology school, Rosee Calios Molina, left the hairdressing profession to work in the Department of Orthodontics at the Arthur A. Dugoni School of Dentistry that Daniel herself considered a change. Molina suggested Daniel apply to work as a receptionist for the dental clinic, and on June 1, 1995, Daniel arrived for her first day of work at the dental school.
After spending her first few years familiarizing herself with the dental school community as a clinic receptionist, a new administrative assistant position was created that would eventually evolve into the group practice coordinator role, and Daniel jumped at the opportunity to help patients and students alike. Those around Daniel quickly came to appreciate her attention to detail and energetic personality, as well as her natural ability to make the clinic feel like a second home.
In 2010, Daniel transitioned to the Student Store, where she enjoyed assisting first-year students who were working in the Simulation Lab. After almost 10 years of working in the Student Store, she returned to the group practice coordinator position for group 3C, and remains ecstatic about rejoining the clinic.
Dr. Shika Gupta '07 IDS first met Daniel during her time as an International Dental Studies student, and the two have only grown closer since becoming colleagues. As the group practice leader for 3C, Gupta now works directly with Daniel, applauding her ability to cultivate a unique, close-knit community by making students, faculty and patients feel at home. "Marietta works above and beyond, and genuinely cares for our school and students—not only our group, but all of the group practices and the faculty as well," says Gupta. "We even have students going back 20 years who stay in touch with her."
"I really love this school. It's very fulfilling to work with the students, and many of them have become my lifelong friends," says Daniel. "They're like my kids now. I've seen thousands of students graduate, and it's heartwarming to be able to say, 'I remember when you didn't know how to do anything in the clinic, and now you're doing all kinds of complex dentistry.' It's absolutely awesome."
A beloved member of the Dugoni School community, Daniel was awarded the Cavanaugh Distinguished Service Award, which recognizes staff members for exceptional accomplishments, leadership, innovation and service to the university community. Daniel is also a three-time recipient of the Rhonda Bennett Award, an honor bestowed by the graduating class that Daniel maintains a special connection to. "I myself had breast cancer and Rhonda had it a year or two before me, which is why we were so close. She was like my big sister, so receiving the award that the students created in her honor was very touching."
Outside of work, Daniel spends her time volunteering at various fundraisers and events for the school, often bringing homemade treats for bake sales and visiting with former students. Gupta adds, "At some point, I would love to create an award with Marietta's name on it, for someone who is a Good Samaritan in the community. That would be a dream for me."
Daniel met her husband Eddie in 1985 when he was attending the California Culinary Academy. She insists it was a perfect pairing—he received free haircuts and she was spoiled by his delicious cooking. After Eddie tragically passed away from a heart attack in 2006, Daniel raised her two children, Renee and Ryan, as a single mother. Renee is now pursuing her graduate degree in social work at Smith College, while her son Ryan is deciding on a career that will allow him to continue singing, writing and recording his own music as part of a heavy metal band.
With retirement on the horizon, Daniel's goals for the next few years include adopting a dog, taking a cruise along the Danube River and learning to make pasta in Italy in honor of her late husband. Regardless of her future plans, Daniel is confident that she will remain closely connected to the school after retirement.
"I told the dean that even when I retire, I'll still come back and volunteer because I don't want to cut the cord from the school completely," said Daniel. "I really love this school. It's my second home, and that's wonderful."
Ashley Musick is a freelance writer from Anaheim, California.