Leading with Purpose Campaign Raises $317 Million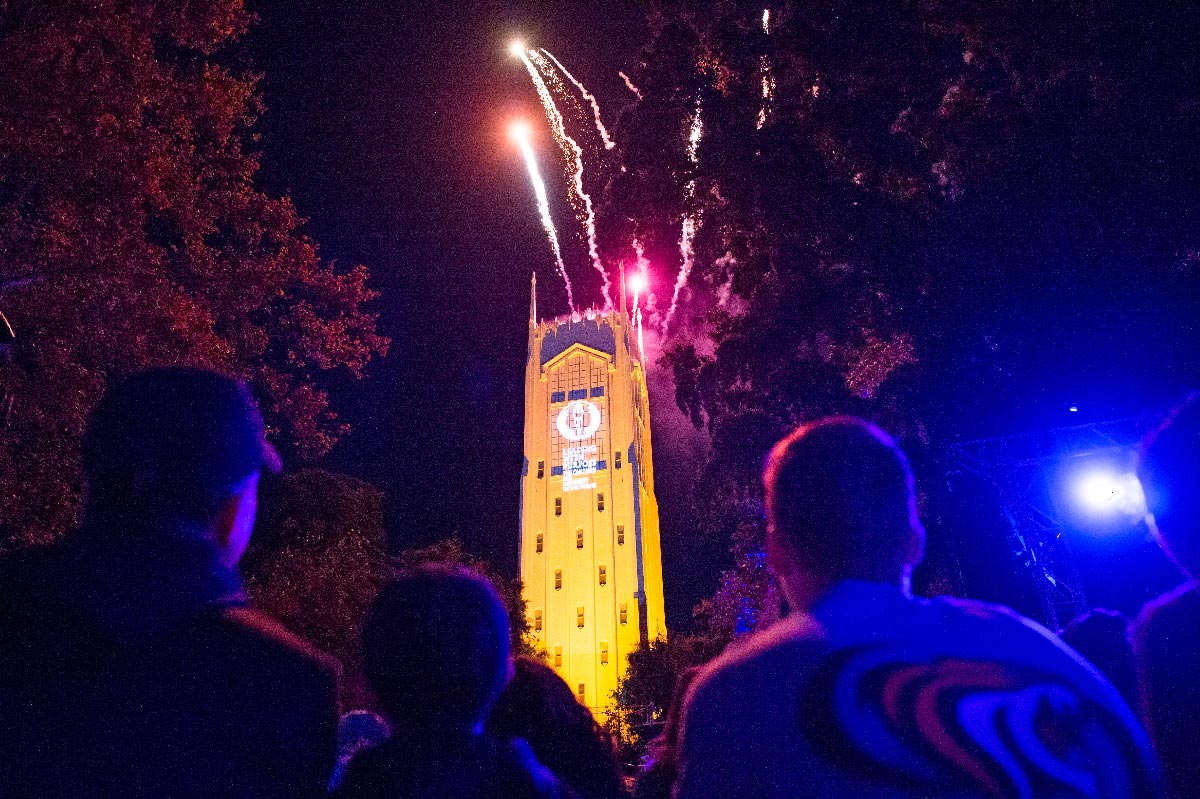 University of the Pacific completed its $300 million "Leading with Purpose" campaign, fueled by one of the best fundraising years in the 171-year history of California's first chartered university. The campaign brought in more than $317 million from nearly 23,000 donors giving more than 66,000 gifts. The final year saw $38 million in contributions, the third-best fundraising year in university history. The dental school accounted for 22% of the total university campaign dollars raised and 23% of the campaign donors.
"We are deeply grateful to Pacificans and Pacific supporters around the world who answered the university's call to lead," said President Christopher Callahan. "Pacific students today and Pacific students of tomorrow will benefit enormously from this inspiring generosity, which has created scholarships, new faculty positions and cutting-edge learning and research facilities across all three of our campuses."
Callahan thanked former President Pamela Eibeck, who led the university through most of the campaign, and volunteers such as former Regent Tony Chan and his wife, Regent Virginia Chan, both 1977 graduates who served as co-chairs of the campaign committee. "Tony and Virginia are inspirational leaders," the president said. "They demonstrate their love of Pacific through their tireless service to the university, their own extraordinary generosity and by encouraging so many others to support Pacific."
The Chan family, including son Jonathan '09 Pharmacy and daughter Megan '13 Pharmacy, have left an indelible mark on the university's three campuses with the Chan Family Health Education Building on the Sacramento Campus, the Jonathan and Megan Chan Rotunda on the Stockton Campus and the Chan Family Reception Area on the San Francisco Campus.
Campaign gifts allowed Pacific to build and renovate 17 facilities, including the William Knox Holt Memorial Library and Learning Center, which features the John and June Rogers Atrium, a digital makerspace and a meditation and prayer area. The library renovation alone resulted in a 52% increase in student study space and a renewed focus on student success services.
Pacific launched the public phase of the campaign during a special celebration at Homecoming Weekend in October 2017 in front of a crowd of 2,000 Pacific alumni, students, faculty, staff and friends. This October, Pacific celebrated the campaign close at the Taste of Pacific event held during Homecoming Weekend.
New Plaza Showcases Pacific's Rich Legacy in Football
Almost eight decades of football at University of the Pacific are showcased in the new Stagg Memorial Football Plaza, a sparkling, 9,000-square-foot outdoor museum and gathering place unveiled April 30. The dedication was part of a football reunion weekend that brought together 250 former players, coaches, fans and community members who recalled the halcyon days of Pacific football icons such as Coach Amos Alonzo Stagg, Eddie LeBaron '58, Dick Bass '59, Pete Carroll '73, '78 and Tom Flores '58.
The dedication ceremony was emotional for former Pacific student-athletes—some of whom went on to play in the National Football League (NFL) and others who knew their final football games would be in Stockton. "The strong feelings we have about Pacific football endure," said Carl Kammerer '61, who played nine years in the NFL as a lineman before moving into a job with the Nuclear Regulatory Commission. "There were many lasting relationships built here. Over the years, players and coaches represented Pacific with pride."
The storied history and tradition of Tiger football are told in exhibits found throughout the plaza. Important program supporters such as Alex G. Spanos, Robert Eberhardt and Larry Heller are showcased in tributes. There also is a display featuring Flores and Carroll, both of whom have led NFL teams to Super Bowl championships, as well as a salute to the legendary and innovative coach Amos Alonzo Stagg.
Many ceremony attendees looked for their names on an exhibit that lists each football player who lettered for Pacific—from the start of the program in Santa Clara in 1919 to the final game in 1995.
"I did not have to come back because I really never left," said Jim Reynosa '57, a native of Stockton who played quarterback for the Tigers and now lives in Oakdale. "Pacific football has been near and dear to me seemingly forever. This event and this new facility are a true gift to all of us who loved Pacific football."