By Ashley Musick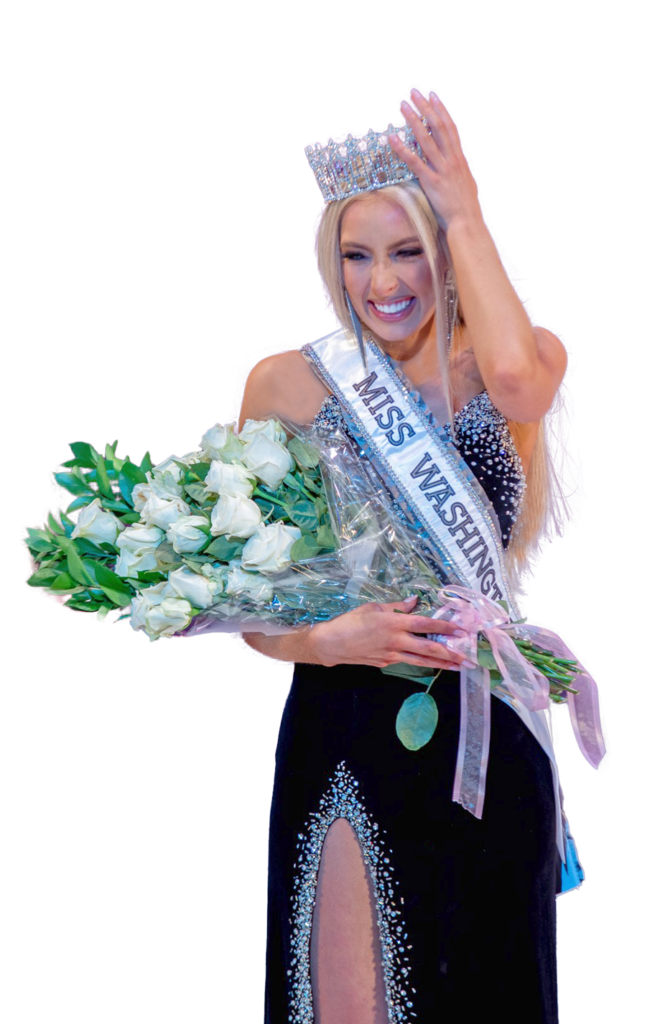 Following her father's example (her father Louis Gallia, MD, DDS, is a board-certified oral and maxillofacial surgeon), Gallia knew from a young age that she wanted to pursue dentistry. Having spent her childhood in Sacramento, California, with two younger siblings and a plethora of pets, Gallia's first experience with leadership involved starting the Dental Divas club at her all-girls high school. Gallia was one of many club members who continued on to dental school, with one other former member having just enrolled as a student at the Arthur A. Dugoni School of Dentistry this year.
Gallia's experiences in high school also introduced her to another powerful community of women––pageant contestants. After entering (and winning) her first local pageant, Gallia found that she was drawn to the service opportunities and camaraderie that she experienced while competing.
"For a lot of the other girls, this was something that they had done for a very long time, and they took me in and taught me everything. That's really where my experience in pageantry started—a positive experience making friends and serving my community."
Though she didn't have time to compete during dental school, Gallia held onto the dream of returning to pageantry one day. "I always had this inkling in the back of my mind, because there's never been a dentist or doctor who competed at the Miss USA pageant. I had this dream and thought, 'How cool would that be, to show other women that you could do both?'"
Once her father informed her of University of the Pacific's accelerated pre-dental undergraduate program, Gallia never considered going anywhere else. She completed her bachelor of science degree in biological sciences in three years at Pacific, during which time she served as president of her sorority, Delta Gamma. In dental school, Gallia also served as co-president of the Student Community Outreach for Public Education (SCOPE) organization. She explained that her passion for both of these leadership roles was due to the opportunity they provided to continue uplifting women while also improving her mentorship and time management skills in preparation for her future career.
"I have never felt the same sense of community that I felt at the Dugoni School," Gallia says. "Everyone wanted to help each other, and I really appreciated that environment because I think that it's hard to find these days. The faculty are also very special––the one-on-one attention that they give you is very rare."
Gallia had the honor of giving the student commencement address at the dental school's Commencement Ceremony in June 2022 and considers it the highlight of her dental career thus far.
She is now pursuing an oral and maxillofacial radiology residency at University of Washington. "This also stemmed from my dad, because in high school, I was looking for dental specialists to come and speak to my club. My dad introduced me to his longtime friend, Dr. David Hatcher, an oral and maxillofacial radiologist who is currently on the faculty at the Dugoni School. He took the time to sit down and educate me, and I ended up falling in love with oral anatomy and pathology, as well as the technology that comes into play in radiology."
Gallia laughed as she shared that Hatcher, her most impactful career mentor, met her father while serving as the chief of hospital dentistry during her father's oral surgery residency and medical program at University of Washington. "My dad was actually the reason that Dr. Hatcher moved out to California, so it's funny that I ended up at the University of Washington, the place that my dad and Dr. Hatcher met, and where my brother is currently an undergraduate student. It's serendipity!"
This past November, Gallia returned to pageantry by competing and winning the title of Miss Washington USA, making her the first doctor or dentist to hold a state title. Her initiative, #GirlDocsRock, encourages young women to become involved in science and health careers. Gallia will go on to participate in the Miss USA pageant later this year—as the first dentist or doctor to compete for the Miss USA crown.
"I have a dream for the future where young women don't have to wonder if they can achieve something because of their gender," Gallia says. "My vision is to encourage young women in the health and science fields, and teach them the skills to be able to reach the pinnacle of leadership if they want to."
A Pacific Northwest girl at heart, Gallia's plans after graduating from University of Washington include finding work at an oral radiology practice, getting married to her high school sweetheart and becoming a teacher or professor herself. "I would love to give back to my community by teaching one day because I've just had such phenomenal teachers in my lifetime."
Ashley Musick is a freelance writer from Anaheim, California.