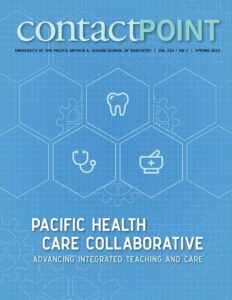 This issue highlights several important advances at the school, from a new health care collaborative to our role in leading changes in dental education.

Some young women grow up wishing to wear crowns, while others dream of becoming doctors. Dr. Samantha Gallia '22 is a shining example that you can aspire to and achieve both.

Throughout Dr. Christoffersen's illustrious career, he has served in myriad roles and his impact has been immeasurable.

Updates and happenings from and around the Dugoni School.

News from and about University of the Pacific.

A friendly but bold statement from the CHIPS 1905 yearbook.

Dugoni School Foundation Board: Alumni Association Board Brucia Society Reunion Dinners Legacy Ball

"I like to be out in nature," Blake says. Surfing, at least indirectly, brought Blake, along with his twin brother Dr. James Blake '87, to dentistry.

The PHCC will become a national leader in interprofessional, collaborative teaching and clinical care for the public, including underserved populations.

At the Dugoni School of Dentistry, respect is both an end and a means. It is an end because human beings deserve respect.