by Kirsten Mickelwait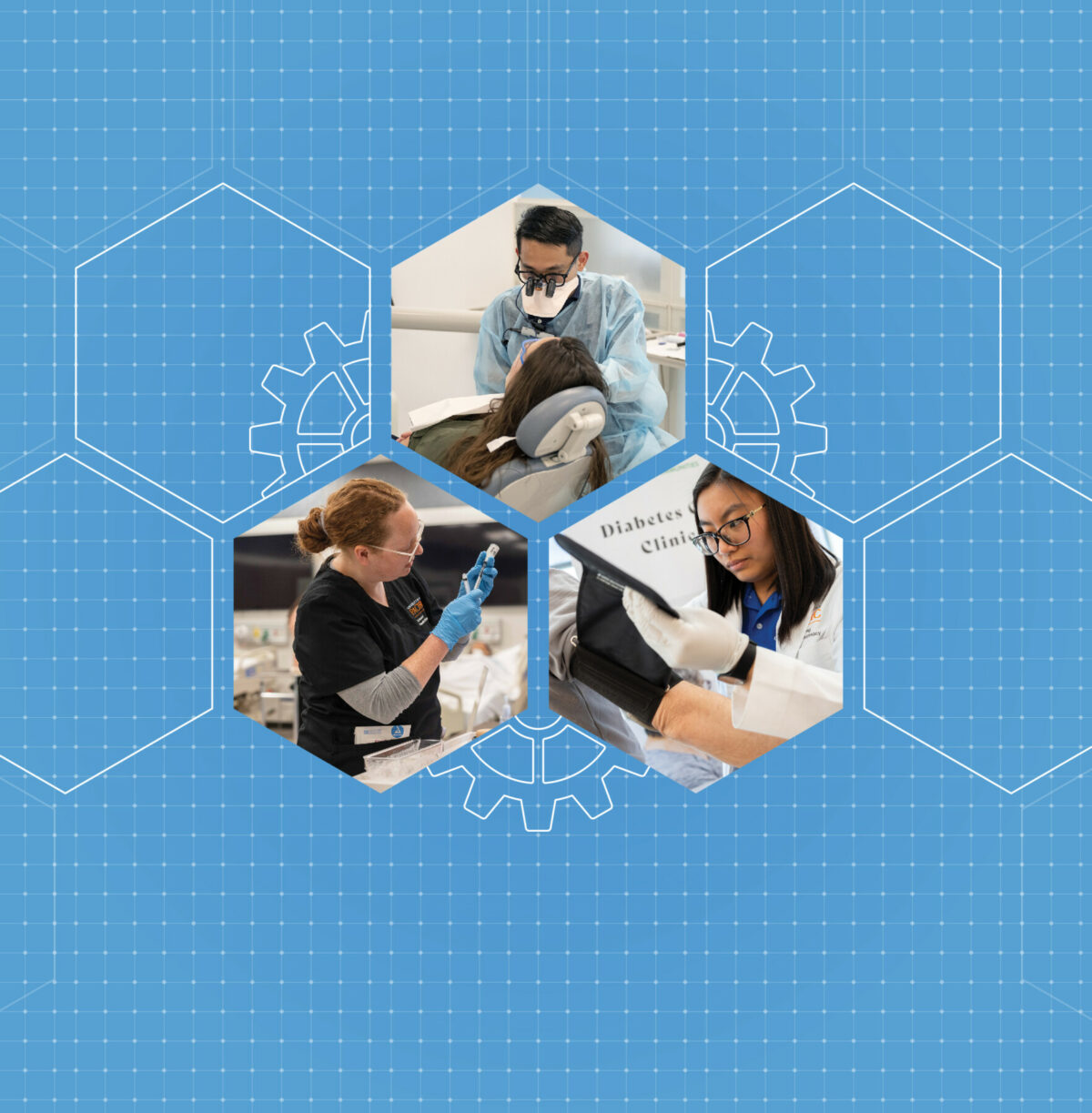 It's a conversation and question that's been going on for years: how to create more accountable, value-based health care for patients. As past chair of the American Dental Education Association (ADEA) Board of Directors and a member of the Santa Fe Group—a leading alliance of more than 240 dental, medical, patient and consumer organizations—Dean Nader A. Nadershahi '94 has been an active participant in that conversation, and has envisioned how the Arthur A. Dugoni School of Dentistry might help to advance that effort. Now, with the future Pacific Health Care Collaborative (PHCC), he has placed the school at the leading edge of this movement for integrated, patient-centered care. Led by the Dugoni School of Dentistry in collaboration with Pacific's Thomas J. Long School of Pharmacy and School of Health Sciences, the PHCC will become a national leader in interprofessional, collaborative teaching and clinical care for the public, including underserved populations.
"Traditionally, dental and medical schools have offered interprofessional didactic teaching and simulation training, but no one has brought all the learners together on the clinical side," Nadershahi says. "There were no teaching clinics built around this collaborative care model. So that was really the idea, to create a model that other health science centers and schools could replicate and build upon—with University of the Pacific leading the way."
Located near Pacific's Sacramento campus—already home to the McGeorge School of Law and the School of Health Sciences—the PHCC will offer a clinical and academic facility to provide comprehensive, coordinated healthcare services to the public, as well as an integrated teaching and learning environment for students.
The new facility will offer students who are training to be healthcare professionals—including dentists, physicians, physician assistants, nurses, pharmacists, occupational therapists, nutritionists and social workers—the chance to learn and work together to provide holistic, patient-centered care.
According to Dr. William Sands '71, director of special projects and the PHCC, this approach will produce not only more collaborative healthcare professionals, but much healthier patients. "There's a very strong mouth-body connection," he explains. "For instance, periodontal disease is endemic in the United States, and it's integral to more systemic conditions—from diabetes to cardiovascular disease. This program will allow us to connect health sciences and departments that, until now, have been completely siloed."
He offers an example. A patient goes to her dentist for an exam and learns that she needs a third molar extracted. The dentist might recommend an oral surgeon or two, but the patient is on her own to follow through with that appointment. At PHCC, the dentist could coordinate the appointment on the spot, then order a blood-sugar test, which might reveal a pre-diabetic condition. The facility's doctors could seamlessly handle the case from there.
A critical element will be shared electronic health records among healthcare workers across the collaborative. "In a traditional medical-dental setting, if the dentist asks the patient, 'How's your health?' he might say, 'Terrific, I'm in great shape,'" Sands says. "He may be a diabetic but just doesn't want to tell you. With shared health records, we'll have that information so we can have a conversation with patients about taking their medications. And the building is being designed to require collaboration, so such communication will happen easily."
Part of the PHCC mission is to provide a safety net for Sacramento's vulnerable and underserved populations. Annually, approximately 20,000 medical patients and 10,000 dental patients from across the northern Central Valley region will be offered preventive, acute and ongoing dental and medical care, conveniently located in one setting. Nadershahi says that Dugoni School of Dentistry leadership is also looking at eventually implementing integrated mobile health care delivery to schools, assisted living homes and other venues, with screening and care for those who can't come to the PHCC.
"What excites me most is that the Dugoni School has been a leader in health care delivery for decades, and this is taking that to a new level," Sands says. "Everyone has been talking about it, but we're at the forefront of this idea that will set the bar very high for the whole nation."
On the teaching side, the PHCC will accommodate the Dugoni School's international students—an expansion of the school's successful International Dental Studies (IDS) program—as well as other programs in the School of Health Sciences, such as the Physician Assistant Studies program. Graduates of the two-year, accelerated IDS program receive a doctor of dental surgery degree and are eligible to sit for any state or regional dental board in the United States. The first cohort of 30 IDS students is expected to arrive at PHCC in the summer of 2024. By the following year, the cohort will grow to 60 first- and second-year students.
"We plan to start with International Dental Studies students, at least as an initial cohort, because they're coming to the U.S. for their second doctoral degree," Nadershahi says. "They're prepared clinically to enter into a collaborative care model, where there's a higher expectation right off the bat. They also bring diversity and deeper experience, which will enrich the whole operation."
The Oak Park area was a natural choice for the new facility, with its proximity to Pacific's Sacramento campus that already offers graduate and professional degree programs in law, education and health. "We've bought a building that's about two blocks away from the existing campus—escrow closed in January 2023—so we're expanding Pacific's footprint in Sacramento," Sands says. The location is also close to hospitals and other potential partners. And it's easily accessed by public transit, making it reachable for all. Patients will be able to walk in or they can be referred by public agencies.
In addition, the facility will be located near the California State Capitol where, using the expertise of Pacific's McGeorge School of Law, PHCC leadership hopes to engage with policymakers to advocate for the advantages of integrating primary medical and dental care. Previously, the Dugoni School of Dentistry was able to launch a new model of care—the Virtual Dental Home—to provide dental services to low-income populations that otherwise would not have access. In 2014, the California State Legislature adopted AB 1174 to enable reimbursement of the system, thereby providing a sustainable method to scale and replicate the model. The plan is to demonstrate PHCC's success and create systematic changes in how health care is taught and delivered across the country.
PHCC leadership expects to break ground on the project in 2023, opening to the public in spring 2024 and to students that July. Architectural plans for the facility are currently being developed. In the meantime, school leaders are reaching out within the community to introduce the project locally. They have met with everyone from a local city council member and State Dental Director Jay Kumar to the Oak Park Business Association and a local homeowners' association.
Of course, such an ambitious vision requires the support of not only the local community, but of the university's and the dental school's large network of alumni and friends. According to Jessica Jencek, associate dean for development, the total project goal is $26 million, with more than $4.25 million in private philanthropy raised to date. "We expect to meet this goal with a blend of federal, state and private funding," she says. "Our generous Dugoni School alumni and friends will play a critical role in realizing our vision." Based on projected revenues, the PHCC will be self-sustaining within two years of operation.
The effort was greatly elevated in June 2022 with a $4 million lead gift from Pamela and Stephen Thorne, IV. And, the Delta Dental Community Care Foundation made a $250,000 Access to Care grant to the Dugoni School of Dentistry for the project. In addition, the school has received contributions from members of the dental school family to support the PHCC.
Stephen E. Thorne, IV is the founder and CEO of Pacific Dental Services, one of the country's leading dental service organizations with more than 1,000 supported practices across the U.S. He is a valued member of the Dugoni School family; his father, Dr. Stephen E. Thorne, III, graduated from the Dugoni School in 1966 and two of his brothers are also graduates. Thorne is a perfect partner for the PHCC because one of his company's main initiatives is raising awareness about the critical link between oral health and overall health, and being a leading voice in advocating for better collaboration among medical and dental professionals to improve health outcomes for patients.
Stephen E. Thorne, IV. Photo courtesy of Pacific Dental Services
"We care about supporting dentists and creating a perfect patient experience, but we also strive to mentor and assist the next generation of healthcare professionals to become the leaders of tomorrow," Thorne says. "This new center will serve as the future of oral health and is an example of the dental-medical integration that will provide better health care to the patients who will utilize this amazing new facility."
Another donor and devoted Dugoni School family member is Dr. Ken Fat, a Sacramento-area leader and dentist. "I believe in helping those people in our community who exhibit the most need, and this project will address that underserved area," Fat says. "It's an honor to be involved in the vision and realization of the Pacific Health Care Collaborative."
The project is a game changer for the Dugoni School of Dentistry. "We want to be recognized as the premier oral health education program anywhere in the world," Nadershahi says, "and we have the incredible students, faculty, staff and programs to do that. With this project, I'm hoping to continue our trajectory as a leader in the conversation around how we can provide quality care in a way that shapes and advances health care nationwide. The best way to predict the future is to help shape it, and this is where the Dugoni School family can really make a difference."
Kirsten Mickelwait is a San Francisco-based copywriter, content provider and professional storyteller.