By Marianne Sampogna Jacobson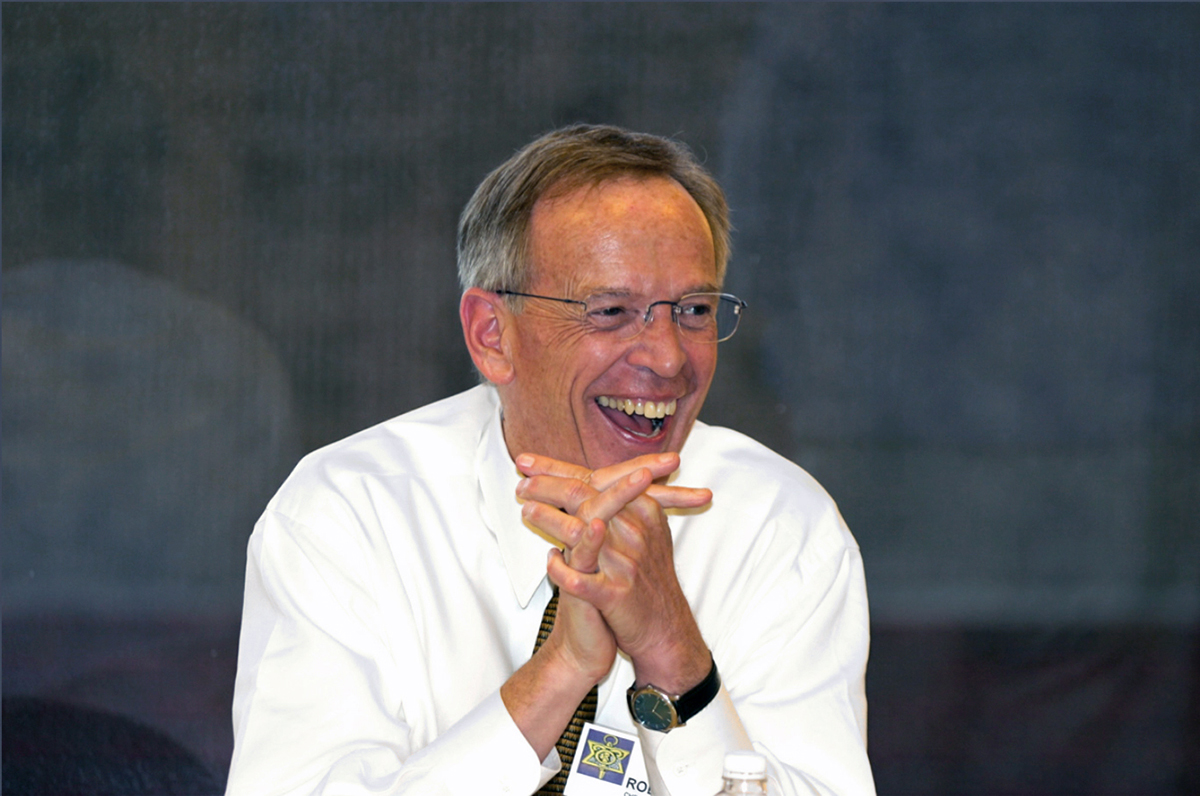 Dr. Robert H. Christoffersen '67 has dedicated his life to the Arthur A. Dugoni School of Dentistry. Entering his 56th year at the dental school, he is the longest-serving faculty member among all University of the Pacific campuses, a role he embraces and a distinction of which he is very proud. His extensive CV is evidence of innumerable contributions to the institution he calls home. Joanne Fox, director of the Alumni Association, puts it succinctly, "Bob Christoffersen loves the profession of dentistry and this school." Dean and Vice Provost Nader A. Nadershahi '94 lauds his contributions, "Dr. Christoffersen has played a significant role in our 126-year history of success in many ways, including through his leadership in the clinic, with the state board and as our first executive associate dean."
Throughout Dr. Christoffersen's illustrious career, he has served in myriad roles and his impact has been immeasurable. "Dr. C," as he is affectionately known, began teaching just weeks after his own graduation from the dental school and has served as instructor, professor, founding group practice administrator, director of clinics, associate dean for clinical affairs and executive associate dean during his lengthy tenure. A dedicated, right-hand man to former Deans Dale Redig and Arthur A. Dugoni '48, he embraced any challenge, regularly putting in 12-hour days to bring their revolutionary ideas and acclaimed visions to life and to make dramatic changes to the institution. Two of his biggest accomplishments were enhancing the school environment by helping launch the humanistic approach to education and implementing the three-year curriculum.
In 1989, then-Governor Pete Wilson appointed Christoffersen to a position on the Dental Board of California. "I served a full nine-year term including one year as the president of the dental board," Christoffersen says. "This position gave me a different view of dentistry. I was shocked by what I learned about the profession through the work of our enforcement division. I was also fortunate to work with some very special people while on the board, including Drs. Steve Yuen '56 and Roger Simonian '73, as well as Ms. Georgetta Coleman, the executive officer at the time."
Perhaps most unexpected from this gifted dentist and teacher was Christoffersen's leadership role in facilities administration, where he envisioned and implemented dozens of projects. "Throughout the 1990s and early 2000s, Dr. C oversaw every school improvement project with his fine eye for design and perfection in the details," Fox recalls. Colleagues referred to him as the "dentist-architect." While he had no formal training in architecture or design, he had a clear vision of what he wanted to create. Christoffersen completed rough drawings and led design teams through many improvements including creating the first large lecture room, reimagining the Pediatric Dentistry Clinic, updating the extramural facility in Union City and creating the Dental Hygiene and Advanced Education in General Dentistry Clinics on the Stockton campus.
"He was largely responsible for creating the 'Ritz-Carlton' of dental schools in style, along with cutting-edge, pre-clinical simulation labs, patient clinics and advanced classrooms," says Dr. Craig Yarborough '80, associate dean for institutional advancement. And Dr. Gene LaBarre noted in an article he penned for Contact Point, "Bob was the person most responsible for renovating and repurposing the Webster Street facility without causing a single missed beat in the academic concert—our own steadfast and loyal phantom of the opera."
Christoffersen has always enjoyed teaching. While serving as a teaching assistant at San Francisco State University, he taught a physical science class to Peace Corps trainees and found it so satisfying he vowed to spend his life in education. Teaching is his true calling and his favorite class is always the current one! Students admire him as selfless and caring, putting them before himself. "He continues to share his vast wisdom and experience with our students ranging from the DDS program to our International Dental Studies doctors and our dental hygiene students," says Yarborough.
Christoffersen made a lasting impression on many of his students including Dr. Aouse Khalil '11 IDS, currently an instructor in the Department of Preventive and Restorative Dentistry. "Dr. Christoffersen was the main reason I considered academia," Khalil says. "He took his time to understand each student's particular learning style, and seeing his passion for teaching inspired me to become an educator, which has been very fulfilling."
"Now that Bob is working as an instructor, he occasionally shares with me the thanks he receives from students; those well-deserved, appreciative messages mean the world to him," says Fox. Christoffersen quips, "The students keep me young."
Not only has he dedicated his life to teaching and leading the dental school in numerous ways, he is also a generous donor to the school. In what he says is "giving forward," he has created a significant endowment of more than $1 million for the dental school. The Dr. Robert H. Christoffersen Endowed Professorship in the Department of Preventative and Restorative Dentistry will leave a legacy to the department and school that he has been affiliated with for most of his life.
Yarborough commends Christoffersen on his life's work. "While Bob often displayed a veneer of distant professionalism, he has given his heart and soul to our mission, values and success, and we applaud his lifelong contributions."
Christoffersen shares his advice to students. "You are only going to be educated once, so make sure you take advantage of every opportunity. Those formative years determine the type of dentist you will become."
As he plans for retirement in the next two to three years, Christoffersen is proud of his many contributions and affectionately shares, "The dental school is my life." Fittingly, he lives at the top of Twin Peaks with a view of his beloved dental school.
Marianne Sampogna Jacobson, BA, MBA, is a freelance writer from Marin County.