by Dr. Eric K. Curtis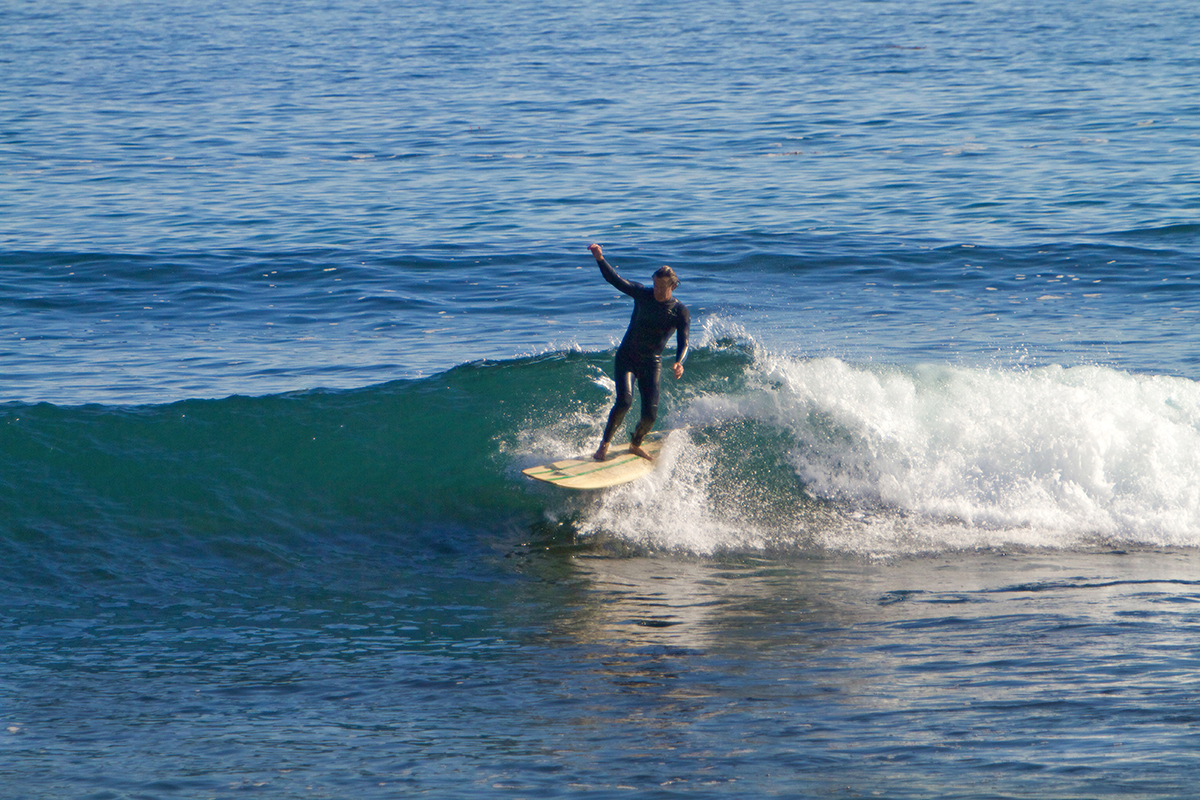 CDA President John Blake knows a good set when he sees it
Dr. John Blake '88, executive director of the Children's Dental Health Clinic (CDHC) in Long Beach, California, and current president of the California Dental Association (CDA), has been surfing since he was five. He clearly feels at home in the ocean.
Blake speaks in measured, understated tones. To my Arizona ear, the cadences sound classically So-Cal—friendly, laconic and laid-back. We are talking on the phone, but I can practically see the sand and sun-dappled expanse of blue.
"I don't go out surfing as regularly as I used to," he says. "But it's peaceful and therapeutic."
Dr. John Blake at the helm of his boat Relentess

Drs. John Blake (left) and his brother James Blake (right)
Surfing also brings moments, for instance, when steering across the face of a wave—or being pummeled in its churn—of sheer excitement. The twin surges of exhilaration and calm that Blake finds in the Pacific Ocean's briny embrace are, of course, partly physical: the push of wind and tide that pulls on tired muscles, the pattern of swells that syncs brainwaves and inclines the mind to meditation and even the occasional slice of icy water that slips between the shoulder blades, under the neoprene, balancing the reverie with sharpness, like a wedge of lemon in your tea, to keep you in the moment.
The allure is also chemical. It manifests in the metallic tang that burns the eyes and cuts the tongue, and in the negative ions that are said to rise out of the foam to trigger a spray of endorphins. And it's psychological, in the state of flow that sharpens your wits, and in the rush of awe that blurs the world you left on shore. Surfing delivers, along with the uncertainty and danger that test timing, balance and nerves, a soothing repetition and satisfying circularity—you propel away from the shore, away from life's comfortable routine, pitting yourself against the restless elements. Then, applying a practiced appraisal and a furious paddle, you get yourself swept back. Only now you are transformed—often for just a few seconds—harnessing the power of the deep, emerging out of the tumble and froth to ride the beast, splitting the seam between sea and sky, triumphant as Triton himself. A surfer's experience is as big as the universe, and as intimate as a heartbeat.
Dr. Blake treats a patient at the Children's Dental Health Clinic

Photo courtesy of John Blake

CDA leaders: Drs. Carliza Marcos '92, president-elect, and John Blake '88, president, with Ariane Terlet '86 and Judee Tippett-Whyte '86, both past presidents
"I like to be out in nature," Blake says. Surfing, at least indirectly, brought Blake, along with his twin brother Dr. James Blake '87, to dentistry. "When we were in high school," he recalls, "our parents asked us to think about what we wanted to do when we weren't surfing." At their parents' urging, the Blake boys spent time in a law practice and they volunteered in a dental public health clinic—the same Children's Dental Health Clinic that John Blake would eventually lead. Their experience in the clinic did the trick: both brothers decided on careers in dentistry.
If surfing was liberating, it was also a distraction, eventually getting John in trouble. Once enrolled in dental school, he says, he found San Francisco's Ocean Beach, with its treacherous currents, to be "more aerobic," but no less enticing, than the Southern California waves he grew up with. "I was sort of a misfit," he says. "I surfed more than I should have." Consequently, Blake spent some time being counseled by then-Dean Arthur A. Dugoni '48. "The dean saw me in a low moment," he says. Instead of a reprimand, Dugoni gave him encouragement. "Art had a genuine interest in people," Blake says. "We stayed in touch after dental school."
His education planted the seeds of Blake's subsequent engagement with organized dentistry, not only from Dean Dugoni's famous example, but also because of the universal requirement for recurring training in cardiopulmonary resuscitation. "In dental school, James and I took a CPR instructor class to make a little extra money," he says. The brothers then offered classes to faculty members and fellow students.
Once out of school, John and James Blake went into practice together, and they continued to teach CPR classes, now for the Harbor Dental Society. They got to know people, and they became co-editors of the society's newsletter. Then a position became available on the California Dental Association's Government Affairs Council.
John Blake says, "Someone told me, 'You should apply. You'll meet people there, and you'll enjoy the camaraderie.' I also enjoy policy and I like helping the profession, so I was interested."
After several years in practice together, the Blake brothers went their separate professional ways. James gravitated to a practice in Seal Beach, while John stayed in Long Beach. (James has since retired; now, John says, "James has more time to surf than I do.") John began volunteering again with the Children's Dental Health Clinic. At first, he says, "I gave them one day a week." But, having always liked pediatric dentistry, he became captivated by the people—both the patients and the team—and gradually he got more deeply involved.
The Children's Dental Health Clinic describes itself as "a multi-specialty, all-inclusive, safety-net dental home" for underserved and medically compromised children and young adults, from infancy to 21 years of age. The CDHC, which, according to its website, sees some 6,500 patients each year, also supports a teaching program, partnering with the University of Southern California, that trains pediatric dentistry and oral and maxillofacial surgery residents. Its main facility resides on the campus of the Miller Children's and Women's Hospital at Long Beach Memorial Medical Center, and it maintains a satellite school-based clinic in Avalon on Santa Catalina Island.
Blake took the hospital dentistry program taught by Dr. Allen Wong '86. Finally, after 15 years in private practice, he sold his practice to become executive director of the CDHC. He has never looked back. "My hardest day here," he says, "is still more rewarding than a day full of shiny veneers."
Handling change with aplomb also served Blake well when he recently navigated an important transition at the California Dental Association, as its traditional 52-member board of trustees was restructured into a 19-person board of directors, which, as CDA president, he chairs. The second consecutive dentist with a public health background, after another Dugoni School alumnus, Dr. Ariane Terlet '86, to serve as CDA president, Blake, along with his board, grapples with such issues as access to care, the dental workforce ("How can we help strengthen the dental team?") and dental benefits ("Is there a way to rethink that whole structure?"). In his current role, Blake neither introduces legislation nor vetoes bills. Instead, he functions as a conduit for ideas, a facilitator of projects, an organizer of talent and the mouthpiece of the organization. He also now serves as a member of the American Dental Association's Council on Government Affairs.
"Dr. Blake is an extraordinary leader and a pleasure to work with," says California Dental Association Executive Director Peter DuBois. "He is highly respectful of others, listens carefully and is always thoughtful about his comments. These qualities, coupled with his natural grace, are why John is such an effective leader and a great example of the Dugoni School leadership values."
Away from the clinic and boardroom, Blake also loves to sail. He and James share a sailboat, a 56-footer with a cutter rig, which he eventually plans to take on a long-term voyage, first west to Hawaii, then south, perhaps to the Marquesas, and on to New Zealand. In the meantime, the surf still calls. This year, John and James Blake fulfilled a lifelong ambition of surfing near an oil rig island off the Southern California coast, accessible by boat, where the conditions serve up "some very good waves," including an occasional rogue wave, an unusually large unpredictable ocean wave. "We talked about it for 30 years," Blake says, "and we planned and schemed, and finally, on January 13, a day predicted to present conditions favorable for a rogue wave, we took our inflatable dingy out there." The offshore buoys were recording 20-foot swells, which Blake says he assessed carefully, because "it hurts a little more now when I fall."
The brothers' lifetime of experience, patience and persistence paid off. Slipping out of the dinghy and onto their boards, they calculated the surges and refined their position. Then it happened. They found their elusive monster wave—and it found them—carrying them, finally, exuberantly, onto its back and down its thundering wall.
Blake seems satisfied with the balance in his life. He takes joy in his family, including his two grown children, a firefighter and a medical student. He adores his job. He finds fulfillment in volunteer work. And he pulls energy from the breakers, especially on days like the memorable one in January when he and James merged with that legendary swell.
"We caught the wave," he says. I can almost see the twinkle in his eye.
Eric K. Curtis '85, DDS, of Safford Arizona, is a contributor to Contact Point and is the author of A Century of Smiles, a historical book covering the dental school's first 100 years.