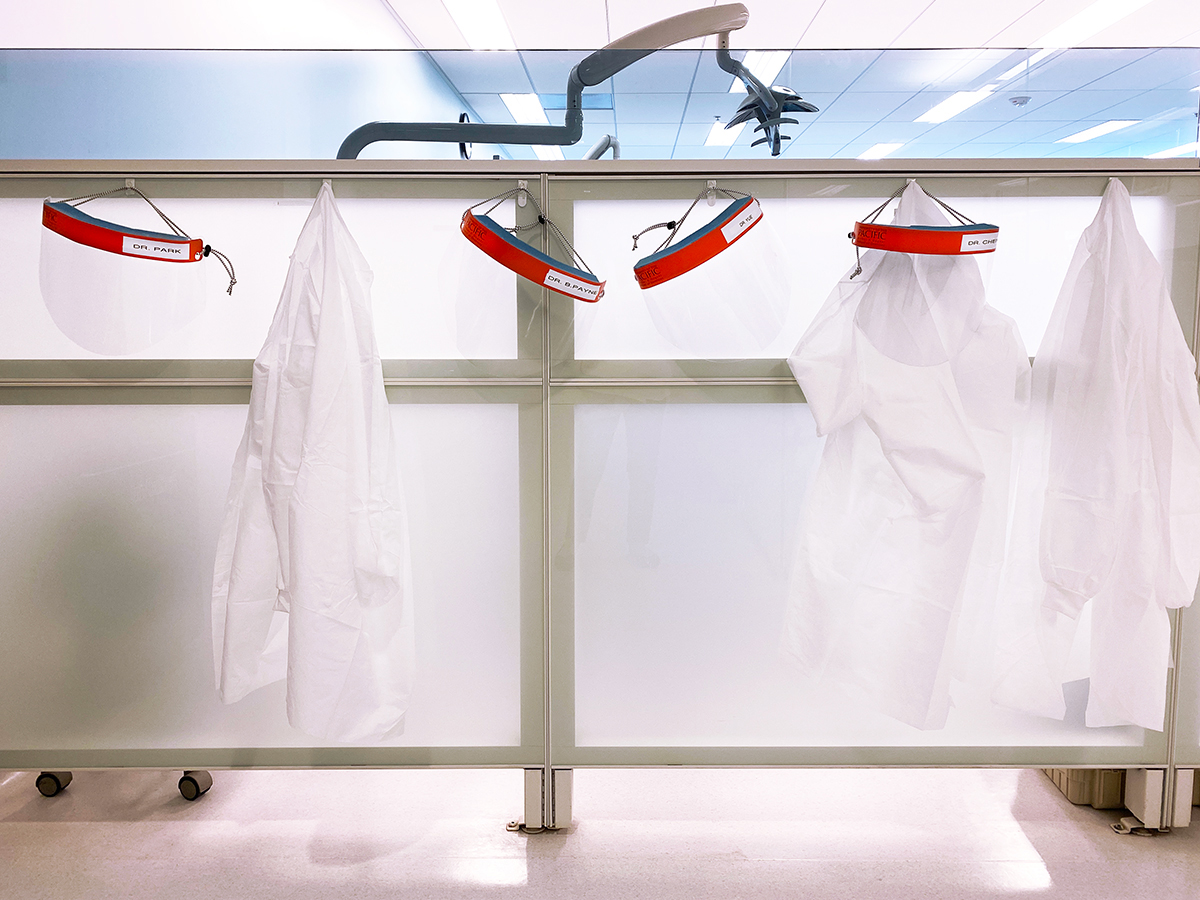 We can all agree that the past year and a half has affected every aspect of our lives, from businesses to public events to family gatherings. Dental education was no exception, and the Arthur A. Dugoni School of Dentistry underwent a rapid, system-wide transformation to meet the challenges presented by the COVID-19 pandemic.
In August 2021, the dental school's leadership team met for a day-long "Reflect and Renew" retreat to analyze the school's response to these challenges and to process the many lessons learned during the past 18 months. Dean Nader A. Nadershahi '94 welcomed this opportunity to debrief and strategize before moving into a new school year that, we can only hope, will be a different kind of "normal."
Nadershahi points to a quote by the futurist Robert Johansen—"The future will reward clarity but it will punish certainty"—and feels it's particularly apt in the wake of the Dugoni School of Dentistry's COVID-19 response. "We learned that we need to be clear on who we are, what our values are and where we're going," Nadershahi says. "But on any given day, the data and public health orders could change so we couldn't be certain that our practices were still appropriate from one day to the next. Staying flexible and not dogmatic in our approach, that's how the team really came together and was successful going through this."
Dr. Cindy Lyon '86, associate dean for oral health education, agrees. "Sometimes we don't recognize solutions until we're forced to," she says. "But we discovered that, as a learning community, we are capable of quick, dynamic change. The past year has confirmed the resilience of our students, staff and faculty—which gives us confidence when we innovate and take calculated risks."
Furthermore, "COVID-19 offered us vivid, real-life examples of epidemiology, immunology and public health concepts, including disparities and social determinants of health," says Lyon.
Key Takeaways
According to Eve Cuny, executive associate dean and a nationally recognized leader in infection control, there were three main lessons learned from the school's COVID-19 response:
The importance of internal and external collaboration. The process of responding to a crisis, recovering from a nearly full shutdown, continuing to educate competent dentists despite restrictions and paving the way forward required a lot of support from internal teams—and the guidance and support of local government officials, regulatory agencies such as the Dental Board of California, local and state health departments, alumni leaders and networks of experts outside the university. Building and maintaining these important relationships served the dental school well.
Our students, faculty and staff are resourceful and innovative. Everyone made significant adjustments over the course of the pandemic. These included transitioning to online teaching and learning of didactic material, creating safe spaces to learn, providing patient care and working on campus to support essential functions during the most restrictive period of the pandemic.
Communication is key to keeping everyone connected. During the most challenging period of the pandemic, when many employees—who did not fit the category of essential workers— were working from home, the dean sent daily messages to the entire campus population. This kept everyone updated on what was happening both on campus and in the broader community. For people who were used to daily in-person interactions with colleagues and students, it was an important lifeline to each other and the school.

Keeping the Campus Safe
The Dugoni School of Dentistry's infection control practices have always been strong, but the pandemic heightened awareness of their importance. The highest level of personal protective equipment (PPE) was, and still is, required—including face shields and N95 respirators—and HEPA air filtration was provided in clinic protocols. Masks became mandatory across campus and students, faculty and staff were required to be vaccinated once the vaccine became available. Proof of patient vaccination or negative PCR tests are also mandatory prior to aerosol-generating procedures. And instructional videos are sent to patients in advance of their visits.
"Despite seeing thousands of patients in our clinics every month, we haven't had a single case of transmission on campus," says Nadershahi. "Working with the San Francisco Department of Public Health (SFDPH), we were approved as a vaccine site, not only for our school family but also for the broader community. We gave more than 4,000 vaccines to healthcare providers and others, and we were the only site that specifically provided vaccines to individuals with intellectual and developmental disabilities." The dental school's population is 98.4% vaccinated as of September—a much higher rate than at other schools.
Innovations in the Classroom and the Clinic
Dr. Des Gallagher, associate dean for clinic services and chair of the Department of Clinical Oral Health Care, says a key challenge in educating dental students during this time was figuring out how to determine clinical competency when students weren't allowed on campus. One approach was to create a competency portfolio in which students could assemble narratives of their work, including cases they previously treated, reflection, analyses and self-assessments.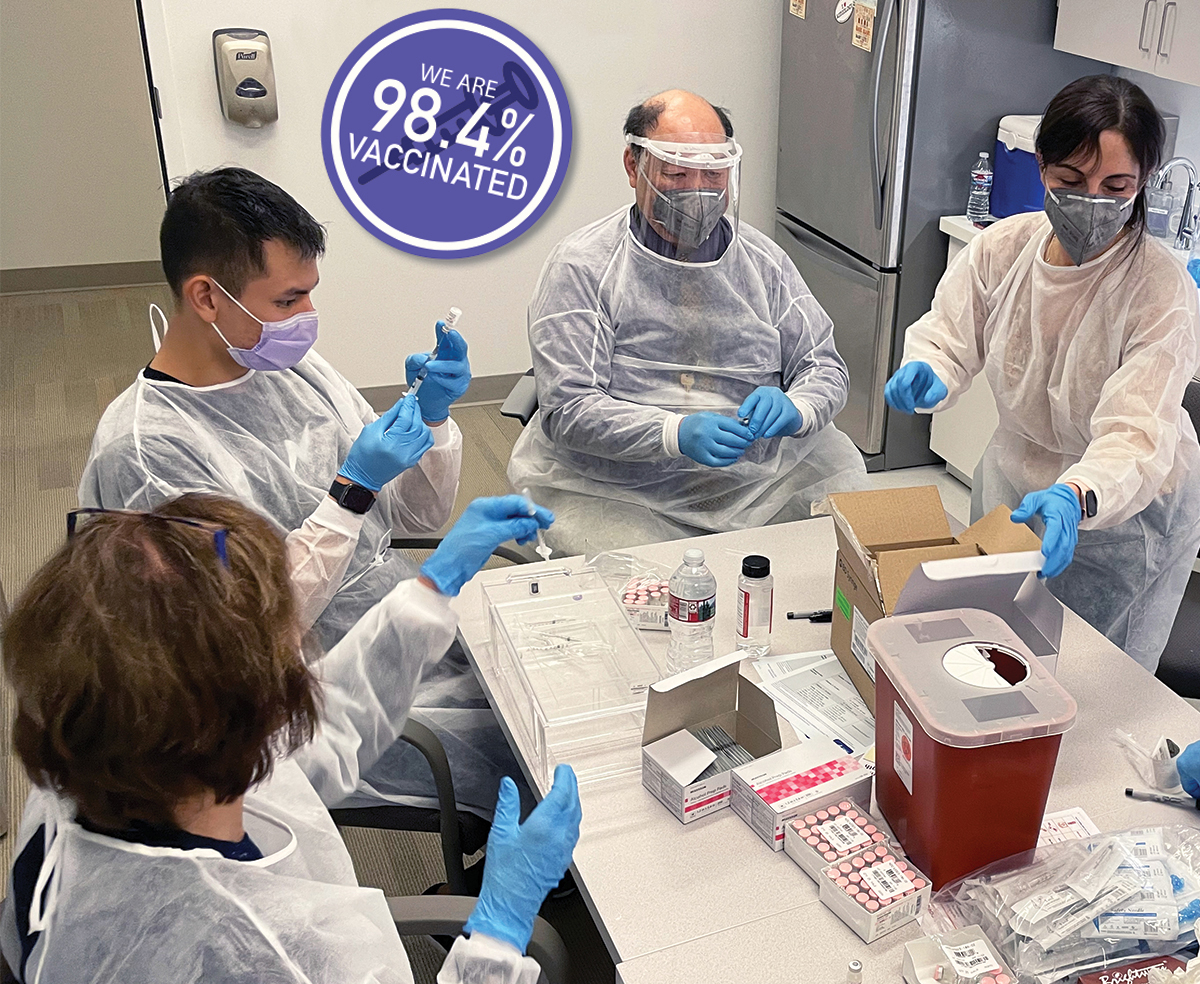 As clinical care resumed in 2020, patient flow was initially kept at 25% of previous years to allow for social distancing, temperature taking and symptom-checking. The group practice leaders developed a formalized rotation system for peer learning and team-based or small-group learning to ensure the development of proper clinical skills. Of three students, one would be the patient, one the operator and one the assistant helping with notes, documentation and encouragement of group critical thinking. The school responded to changing infection rates and public health guidelines by varying the number of open patient chairs in its clinic, averaging patient flows of about 65% over the year. And the efficiency of scheduling was improved so students could get as much clinical time as possible.
Another innovation was integrating technology and HIPAA-compliant telehealth services for patients; finding new ways to process patients from their own homes or workplaces. By enabling new patients to engage with the clinical teams via Zoom, the dental school could use its clinic chairs more strategically.
"We also had to pivot as to how we prepared our students for the clinical licensure exams," Gallagher says. "All the licensure bodies moved away from actual patient-based clinical exams to a more standardized, non-patient-based process of assessing the technical ability to provide irreversible care such as fillings and crowns, and the demonstration of hand-skills care. This required us to look at how we used our simulation clinics, particularly for our final-year students, and to integrate simulation more into our curriculum. Students were given opportunities to refresh their hand skills using simulated decay or doing crown preps on manikins."
In addition to portfolios and technique competency exams, "We're now using Objective Structured Clinical Exams (OSCE) to assess students' readiness for graduation," says Lyon. "This combination of assessments aligns well with our 'Head, Heart, Hands' philosophy of practice."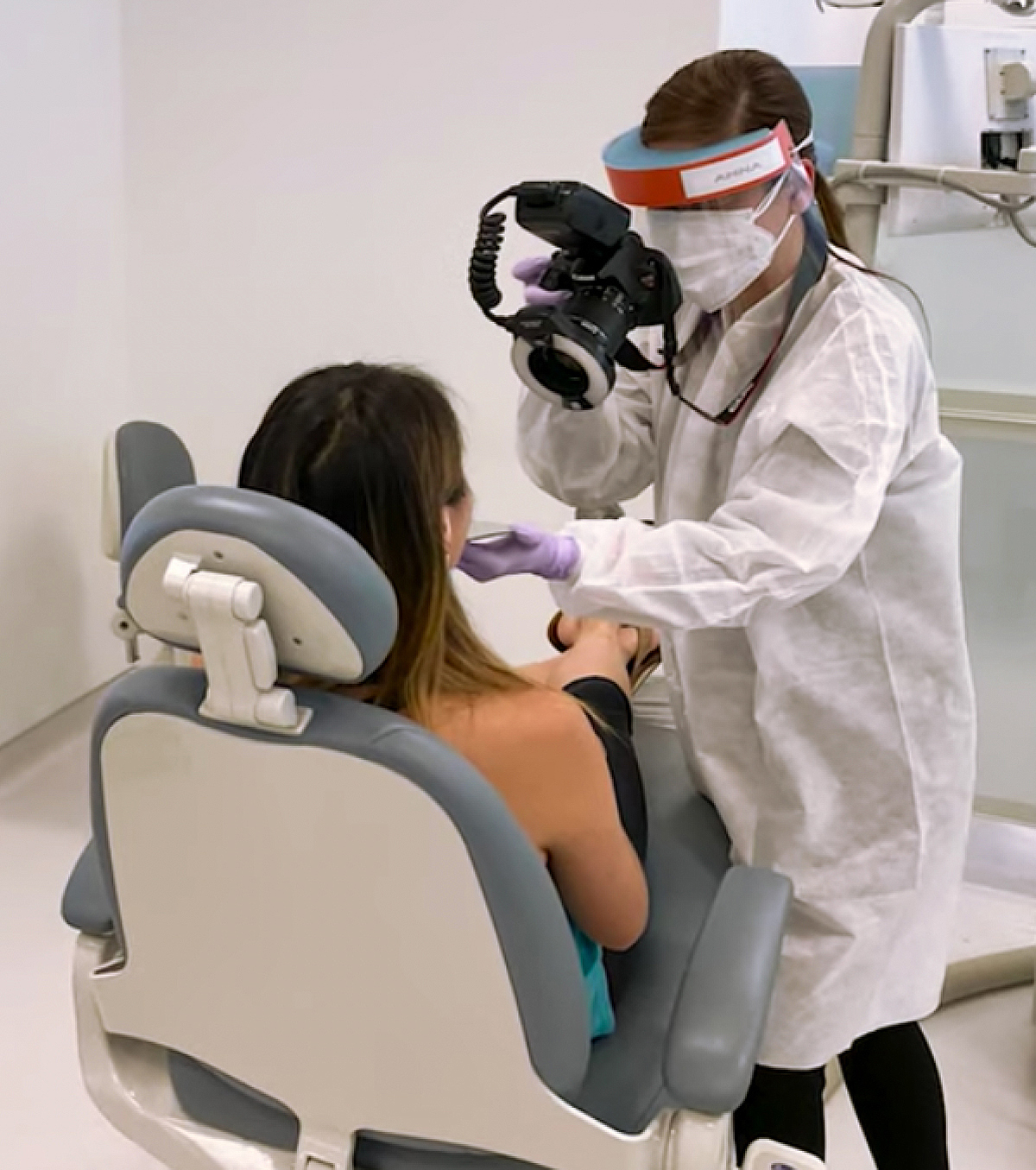 The Student Perspective
Last year, Student Body President Steven Leung was a second-year student who served on the Crisis Management Team. "During winter quarter finals week, SFDPH was shutting everything down and we didn't know if we'd be able to take our exams," he says. "Finals week became our spring break, then we took finals, then immediately went back to school. We had no official break from January to May."
As a result of the lockdown, he says, there was a noticeable rise in student stress. In response, the dental school increased resources for mental health. The school administration also did a great job of clearly communicating the changing public health mandate each week, Leung says. Depending on their class, students used different social media platforms— including Facebook Messenger, GroupMe and even an app, previously best known for being popular with gamers, called Discord—to share information and schedule meetings.
From a student's perspective, he says, there are a number of COVID-19 practices that should be maintained going forward.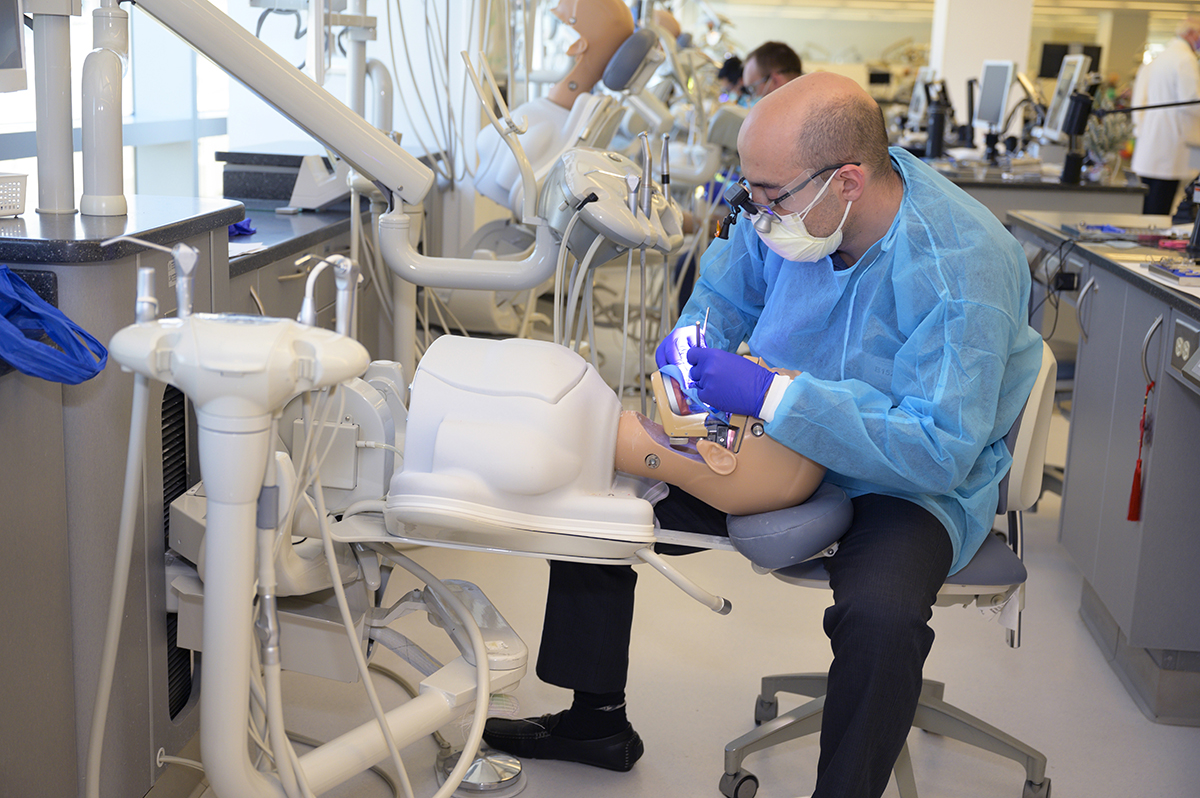 Surveys have shown that more than 80% of students and faculty believe the school should continue some form of a hybrid teaching model balanced between in-person and online instruction. "We've learned that academics can be accomplished virtually, but rotations and specialties can't," he says. An online proctoring platform was used to keep students honest during at-home exams, but the school will return to conducting exams in person.
Cautiously Coming Together
As spring 2021 progressed, the dental school cautiously ventured toward resuming some personal interaction. In May, staff and faculty—who were working remotely—starting coming back for in-person work at 25% of their schedules, then 50% and 75% in June. The dental school officially re-opened at 100% capacity, back to in-person, pre-pandemic work schedules, on July 6, 2021 to meet the needs of its students for the academic year.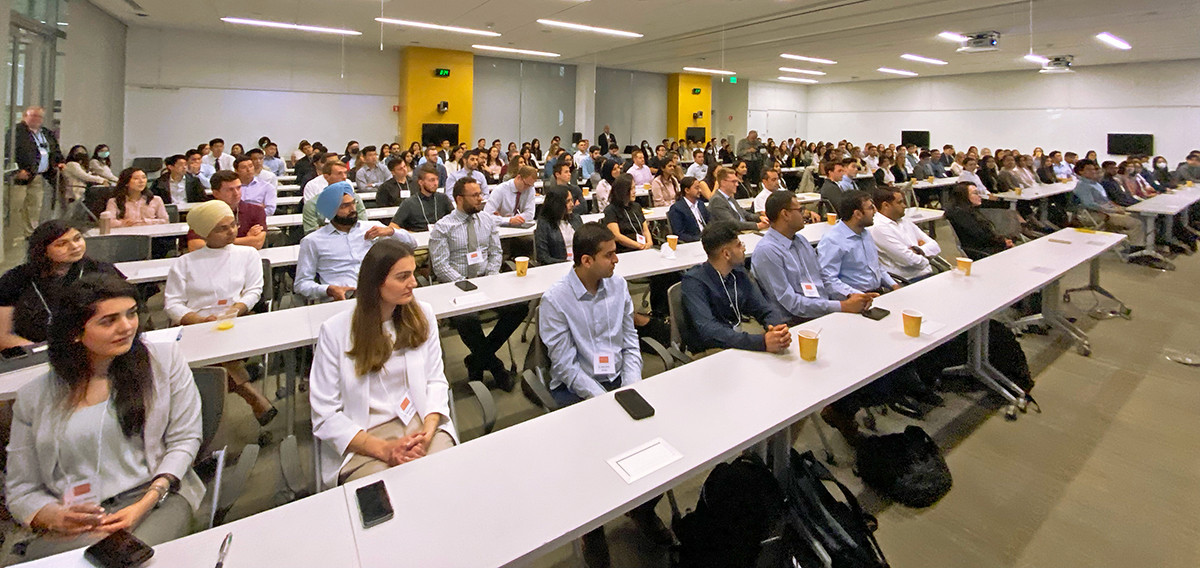 "It was wonderful to start the new academic year with fewer restrictions," Nadershahi says. "Although we still needed some safety precautions due to the Delta variant, our new students and residents were able to experience the true heart of the Dugoni School family."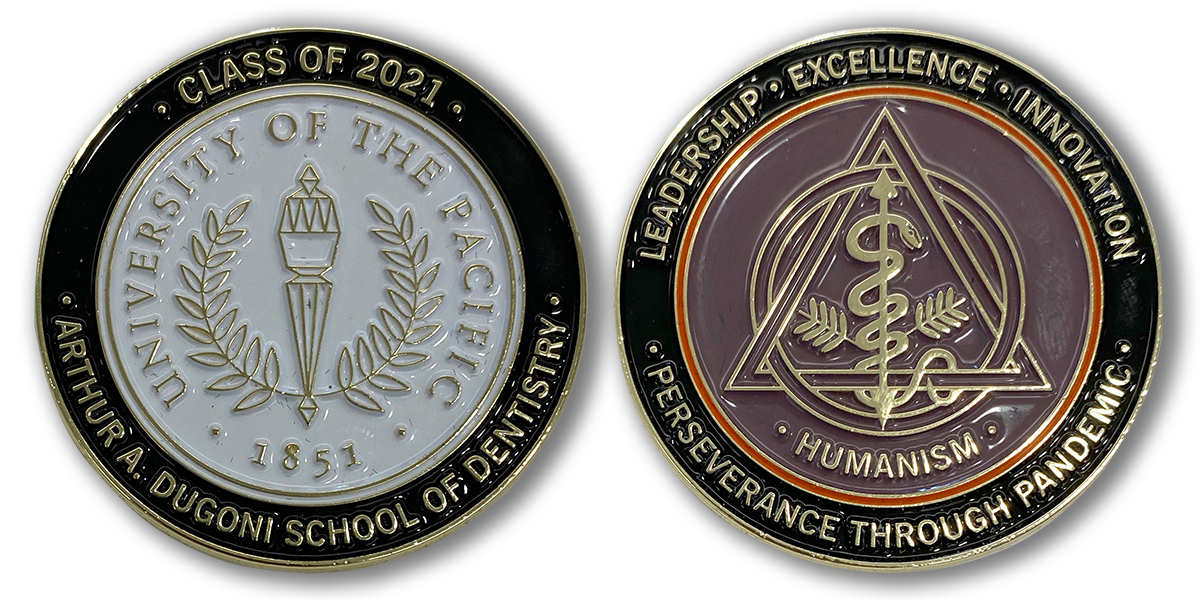 In June, the Commencement Ceremony for the Classes of 2021 was conducted in person at the Masonic Auditorium—the first "pandemic" graduation of any university in San Francisco. And in August, White Coat Ceremonies for the DDS, IDS and DH classes were held at the Palace of Fine Arts. At both events, family members were allowed to be present but all attendees were required to be vaccinated, or show a negative COVID-19 test, and wear masks. Brown-bag forums with the dean have resumed, with food provided separately so attendees can remain masked. And small-group events—for alumni, friends and other university partners—are being held outdoors.
Now, with the Delta variant, the Dugoni School of Dentistry's leadership remains vigilant with its safety precautions. The university has a trained contact tracing team to quickly identify and notify anyone who has been in close contact with a confirmed COVID-19 case on any of its campuses. Every individual must be vaccinated unless they have a medical or religious exemption. And masks are required indoors at all times, except when briefly eating or drinking. Although not meeting daily as it did during the bulk of the pandemic, the Crisis Management Team continues to gather at least twice a week to review and discuss any additional information or recommendations and to take appropriate measures.
Overall, Nadershahi says, clear vision and communication were the lynchpins for the school's success during this challenging period, never losing sight of the school's culture as a place of human-centered learning. "If anything, this experience has underscored the importance of our defining characteristic as a humanistic educational environment," he says. "The key factor that allowed us to be successful through this was being extremely clear on our mission and values of courage, excellence, empowerment, integrity, innovation and leadership. Using those values to make every decision has served us well in the past and will in the future. I'm so proud of the entire Dugoni School family."
Kirsten Mickelwait is a San Francisco-based copywriter and professional storyteller.